I am currently working on a couple of terrain pieces, that will follow my Warcry review. Among them is the Sigmarite Dais and the Azyrite Townscape, that will go great with the terrain from the Warcry starter kit.
I started with the Sigmarite Dais, a round temple base, that I primed black and gave a coat of grey paint. I added details and several coats of drybrush, beginning with AP Uniform Grey, Skeleton Bone and Weapon Bronce for the metal parts, that got washed with Badab Black.I like to go with off-colours like Bleached / Skeleton Bone or Rotting / Necrotic Flesh (I only know the old Citadel and current Army Painter names), that way you get a certain tinted highlight and not the dusty look that white would give you. Along with thinned down wash you get a natural, mossy look.
Late last week the Warcry starter arrived and I picked up some of the promotional items for the game. There are buttons with the different faction icons and a wrist band, and if you pre-order instore you get artwork cards as well. Some of the local gaming stores should have those in stock as well.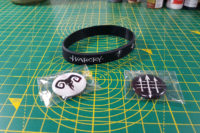 The box is roughly 4 kg (incredible heavy!) and it is just a ton of sprues. I started friday night with the terrain (just imagine the Commodores with Night Shift at this point). It is a lot, it takes a bit of time to cut from the sprue, so I am still on that step and it will take up some space on the upcoming review.
On the weekend I visited my wife and daughter at the cure in Thuringia. As it is the weekend of my daughter's first birthday, we went for day trips on both days. On saturday we were at Saalfeld, just like 15 minutes from Rudolstadt, where Radaddel has his gaming store.
And on sunday we went to Hohenwarte reservoir, an artificial lake, with quite a view. Went for a small hike with our families, that went with us to visit their grandchild on her first birthday. Crazy how fast time flies, that she's already one year old. Looking forward to catch up on the birthday party back at home, and to build her first Duplo kit with her.
When I came back, I watched the new The Boys trailer on Amazon Prime. Such an amazing, addictive series. I watched two episodes sunday night, and it will take a toll on my evenings during the week. After I finished Gotham, which was rather so-so, I really was looking for next show to watch. Check it out yourself.
I'll be back later this week, as I have a lot on my schedule as you see.
Enjoy this article?