A lot earlier than I expected the Colony 87 plegdes arrived this monday. In the crowdfunding campaign a release in november was avised and that was fine for me.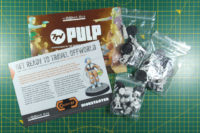 It is the third wave of the miniatures range and the third time, it was financed through crowdfunding. The campaign was funded succesfully and landed more than 25.000 GBP with 400+ supporters. That is more than the first and second campaign combined (Colony 87 and Return to Colony 87), with roughly 5k GBP and 10k GBP.
One of the reasons for the success certainly was the new distributor / owner. The team around Karl and the 7TV rule system, Crooked Dice takes care of the Colony 87 miniatures since late summer.
I went with the two sets pledge, at 55 GBP and chose the first and second wave of miniatures. My plan is to pick up the tech trader as a single miniature on Crisis next month, at the Crooked Dice booth.
A very clean cast, with a low amount of mould lines. Each of the older waves consists out of 6 miniatures, covering several civilian figures from the colony.
A pledge over 30 GBP, as the one I chose, gave me access to the stretch goals and with the total sum over 20k, there were quite a lot of them. A total of 12 additional miniatures, including a couple of critters and smaller items.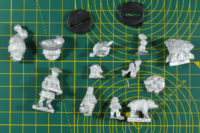 The style of the miniatures and the name Colony 87 aims at the old Rogue Trader, the first edition of Warhammer 40.000. The scale fits very well the 28mm miniatures of the mid to late 90s and early 00s, as you can see below.
What can I say? Early and proper fulfillment, a solid amount of stretch goals, what's more to wish for? You could add a couple of other items to the pledge, if you wanted to, like resin cars and space port security, but I was fine with the two sets of miniatures.
For me these fit very well as civilians or citizens of the underhive, giving a more real, populated look to the tables of Inq28 and Necromunda matches. A ressource that is rather scarce miniaturewise, especially if you go for the mid-hammer look of the 90s Necromunda. You could probably use these miniatures along with the Munda-predecessor Confrontation and some of the extended Rogue Trader range.
Enjoy this article?