Just in time for Spiel in Essen the foam inlays by Feldherr are ready for the next season of Warhammer Underworlds Beastgrave.
I received the friendly package shortly after my review on the starterkit, and as I already have the starter boxes of the first two seasons upgraded with the foam inlays, I was looking forward to do so with Beastgrave as well.
Games Workshop presents the Underworlds series similar to board games with a card box trim, and that is great for the tokens, boards and such, but not ideal for the miniatures themself. Feldherr offers fitting inlays, that replace the card board with a foam inlay.
They match the size of the box, offer place for all the miniatures and tokens. And as you can see, here next to the ones from Shadespire and Nightvault, do a great job protecting the miniatures and keeping everything in place. Where as that was something that was some kind of optional with Shadespire, that is a hard must have for the delicate Thorns of the Briarqueen from Nightvault and the Wild Hunt from Beastgrave. The cut outs for the cards are a bit wider, so you can use them even with sleeves.
The tray comes with another thin 5mm foam sheet, that is put on top of the tray, to further protect the miniatures and such from the board and books.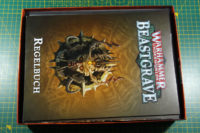 Feldherr offers several trays for the supplement warbands as well, in combination with their bags and boxes, so you can customize them to your needs. If you're at SPIEL next week, you can meet them at Hall 6 Booth G102.
The shown product item was provided by the manufacturer.
Enjoy this article?