On September 14th the Warhammer store in Mainz celebrated its third birthday and held the Everchosen competition for it's customers in Mainz. The atmosphere was pretty good and besides the usual games there was also a delicious cake to enjoy. Visitors who were eager to buy had the opportunity to take part in a small raffle in which various goodies could be won.
The quality of the entries was quite good for my impression, which is why I was all the more surprised when the vote count finally chose my Blood Bowl team, the Skycastle Titans, as the winner.
Store manager Jonas had come up with a little something that was special for the event. Instead of the usual certificate you could get a glass trophy in the Mainzer Store - in my opinion this creates a much more valuable feeling and motivates additionally to participate in the event. Normally I'm not a friend of cups or trophies, because it quickly drifts from "fun" to "serious" and I generally think it's a wrong tendency in a hobby, but the latest glass trophies of Games Workshop are so cool that I wanted to compare them directly with those from Warhammer Underworlds.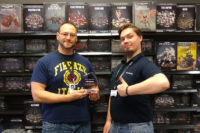 As you can see, the glass structure of the Everchosen competition is slightly larger and neutral in colour. Basically you can put your entry into the showcase without disturbing the look of other models. The Underworlds glass trophy has a slightly greenish touch, which is a nice little detail, as the glasses also have a greenish shimmer on many of the well-known Shadespire illustrations.
I would also like to compare the other trophies in use, but winning them is a Herculean task that I do not want to focus my lean hobby time on. In summary, I can say from the event that it is fun to get to know new hobbyists this way and to possibly win new players for your system through your contribution - in the end we all just want to play a little bit.
Greetings from the Chaosbunker
Dino
Enjoy this article?