In summer I traded some of my Rogue Trader Genestealer Cults in and got a small Oldhammer undead warband. I was looking into the gaps, that I was missing, for example some Zombies to fill up the ranks.
But old doesn't mean good in automatically, and the old Zombies from the early and mid 90s didn't really appeal to me. So I went out and looked around, what miniatures would be a good replacement or stand in.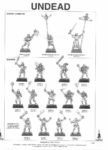 There is White Knight's Miniature Imperium, and they teamed up with The Assault Group for production / distribution. The range covers a couple of human miniatures, fitting the design of the old Marauder and early Citadel miniatures, along with halflings and dwarfs, all in the matching landsknecht attire.
While preparing my wishlist for Crisis 2019, I put these two blisters on my list. Due to a pre-order special at The Assault Group, the blisters were quite cheap, got 20% off and just had to pick it up at the show. One blister with zombie humans and one with zombie halflings. I think they made a good addition to an undead warband and link it very convincingly with the human / empire warband, that I rallye from my 4th edition WHFB Empire army remains.
Casting is quite well done, minor mould lines, no flash and proper tooling. The material itself is a good choice as well, not too soft and not too brittle.
Some of the human zombies wear full plate, making them very close to the Marauder / old Citadel Reiksguard. Another one wears a cuirass, looking like an old pistolier on foot, and the remaining three are just regular soldiers or artillery crew. As for the halflings, White Knight offers the living counter parts, that are quite similar with the old perry sculpts from the mid 90s.
To give you an idea of scale, here the White Knight / TAG miniatures are next to Citadels from the mid 90s (and they fit the marauder range).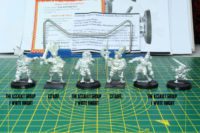 The blister of 5 halflings was 10 GBP, the 5 humans 12 GBP. A blister of 5 halflings will cost you 10 GBP, 4 dwarfs as well. The humans aren't yet part of the assault group range, maybe you could drop White Knight an e-mail, as the Witchhunters and some of the knights on foot are quite nice sculpts.
White Knight's Miniature Imperium is on facebook as well, if you want to keep an eye on some (upcoming) novelties.
Enjoy this article?