2019 is history and, as it always is, every new year begins with a series of excellent intentions. For me, however, the list is very short. I could make a lot of great promises to myself, but if we're honest, we already know that this is a wasted effort in the hobby anyway. But as a german saying goes, " Realizing is the first step towards improvement".
For this reason I looked at my unpainted minis and I realized one thing in particular - there are way too many. So the only good intention I have made for this year is not to buy any new minis and to get rid of old stuff I won't paint. The only exception is at the beginning of the year, because I always wanted to have an Ogre team for Blood Bowl and it was already the plan to get the Orc booster for the second season of the Journey of the Maulers project. So my whole shopping list for 2020 looks like this:
Orc booster for season 2 of the Maulers
Ogre team
Ogre booster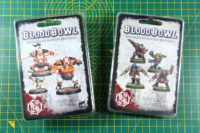 That's actually already it and as you've seen in the latest Weekender, the boosters are already here. Partly this is due to my dwindling time, partly to the really great things that I already have. So in April I will revive the Wild West Wednesday's and finish the campaign for Dead Man's Hand with Finn. On the way there will also be some reviews of 4Grounds' Western terrain as well as some fantastic new Wild West miniatures from different manufacturers.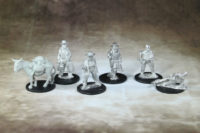 Otherwise, I would like to continue my passion for gripping stories and fantasy with Frostgrave. The miniatures have such a great, classic Sword and Sorcery style that I will probably have fun with them for quite some time. I will probably start doing so in the new year as well, because Nick Eyre of North Star Military Miniatures has provided the Chaosbunker with a sprue of new sorceresses, which I will paint in my recognizable style.
Well, then what? Actually, I'd like to continue with Dreadball, but with Dead Man's Hand and Frostgrave I'll probably be at full capacity this year. It might be that I won't even be able to do that, because...actually I intend to cut back on my hobby activities a bit. Last year my health condition showed that I need more physical activity and so I decided to get more involved with sports again, not just in the form of a football persiflage on the game board.
Therefore my outlook is about as short as the time I will have left for the hobby. But as always I will try my best to entertain you as good as I can. Until then…
Greetings from the Chaosbunker
Dino
Enjoy this article?