Around early summer last year, I added another light vehicle (a T-26) to my Spanish Civil War (SCW) army. And I am always looking for further, small and/or light (armoured) vehicles to add to this project.
I knew about the heavy field car Krupp Protze being used by the Wehrmacht, mostly as Sd.Kfz. 70 or 69. As it was service since 1934 until the end of world war 2, it would fit into the time frame of the SCW. But when I found this picture in the spanish Bolt Action group on facebook, in service of the nationalist army during the spanish civil war (as Sd.Kfz. 69 towing a PaK 36), I thought it might be a good addition to that project.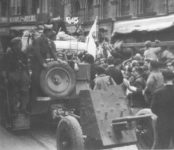 And indeed, it would be a good fit for the Bolt Action project. I play the Nationalist as an early war army and the Krupp Protze is simply a heavy field car with a transport capacity of up to 6 and / or a tow for smaller guns. As it would be either a nice transport for a small veteran unit, or to tow a PaK 36 as it is shown in the picture. The civil war was even the first theatre of war, where the gun saw action. So "fluff-wise" we're absolutely safe here.
I build a series of PaKs from the Rubicon Models range during my Anti-Tank Gun Week, among them a PaK 36, so I already had that. I looked around for a Krupp Protze, Warlord Games offers one as a resin kit, but as the Sd.Kfz. 70 version. Rubicon offers the Protze as a Sd.Kfz. 69 and 70 kombi kit from ABS plastic. I prefer plastic over resin and the kits cost roughly the same. As they announced the kit back in 2018 and the projects stay rather long in a WIP state, I wasn't sure if I could get my hands on it. Availability is an issue with Rubicon and it is currently not even listed among their products. But I managed to get one just before christmas via Fantasy In, thanks to Hannover for the fast delivery!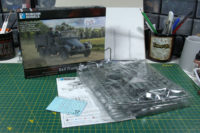 The kit covers 2 sprues and a decal sheet. As written above, it covers enough parts to build either a Mannschaftstransportwagen Sd.Kfz. 70 (even incl. an optional canvas) or a Zugwagen für 3,7-cm-PaK 36 Sd.Kfz. 69.
Rubicon uses ABS plastic, which needs a specific glue and can't be properly assembled for example with Revell Contacta - my go-to glue for anything plastic. I bought myself the ABS cement by Tamiya. Beside the fact that the brush is not a proper tool for the assembly of smaller model kits, the glue got all gooey, like honey and wasn't of any use. I went on to search for an alternative - that was available and reasonably priced. I found this special glue by Pattex, that even covers the small tube as the Revell glue does. I'll give it a try.
The Krupp has the same chassis for both variants. With the Sd.Kfz. 69 the bed benches were replaced with an H-shape mount, that would carry tools and ammunition, along with a small number of soldiers (2 in the front row and 2+2 on the benches in the back).
Assembly went quick. Fit is good and the glue did a proper job. I really prefer the tube over a brush for the appliance of glue. I did a brief mock-up with a driver and seated crew, along with the PaK in tow-mode.
The kit absolutely does its job. At around 20 EUR it is okay-ish priced. Yet, I still have my problems paying more than 15 Euro for something that is roughly the size of a Space Marine bike. That's not Rubicons fault, the resin kits are priced about the same. Along with a seated crew and the gun you're easily looking at around 40-45 EUR for a unit, that merely brings 80 Pts on the table.
I have the vehicle crew by Empress from their Spanish Civil War range, so the driver is sorted out. As for the mounted troops itself, depending on what you're after, you could either use the individual sprue that Warlord Games offers for their Opel Blitz or one of the seated crew codes from the Perrys DAK range. Of course, that would only cover German soldiers or maybe Legion Condor with a bit of a stretch. Otherwise just leave them off or go for a headswap.
As for the paint job. The Krupp Protze would most likely have the german grey paint job, with spanish tank / vehicle insignia, maybe even some graffity. You could look into the camouflage that tanks like the PzKpfw I Breda had, and apply that to the vehicle.
Enjoy this article?