Games Workshop released towards the end of 2019, along with an update for the Middle Earth game system, two new terrain kits for Rohan, a house and a combination of walls and a tower. We'll look into the house today.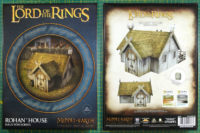 The Rohan House covers a building in 28mm, along with a bit of decor, covered in two hard plastic sprues for a retail price of 34 EUR. It was part of a Rohan Stronghold bundle for 200 EUR (incl. 6 houses and 2 palisade/tower sets, with a very solid saving of 30%), which sold out very quickly on the day of the pre-order. This kit comes with a very well written assembly instruction, that clearly guides you through the process.
The two sprues are identical and include the same parts. Your first thought may be, oh that will cause mirror buildings and clones. But don't worry, we'll get into that shortly.
If you want additional information on these kits, Games Workshop provided via WarhammerTV three videos, covering building and painting the regular Rohan House along with the further options the sprues cover.
The Warhammer Studio Team celebrated the new terrain kits with a village showcase, that is on display at the Warhammer World. You can see a couple of picture of the showcase in my 2020 visit to the Warhammer World Exhibition Centre.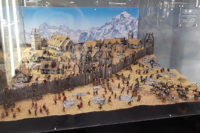 I mentioned above, that you get the same sprue two times with this kit. But as every wall-piece is double sided and come with variations, this gives you a lot of freedom. We have four different styles for the walls, incl. a door section, a blank and two different styles of windows. The shorter wall sections come with open and closed windows, the dormers have two different styles as well.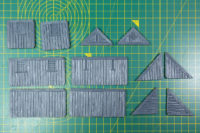 The rohan houses have thatched roofs, and you get the large sections for the main roof, along with shorter angled and straight sections for the dormers and porches. These are kept modular, so you can stack them horizontal and vertical, to create longer, taller or in general bigger buildings / building sections. Same goes for the wall sections, these can be stacked as well or combined in different ways using the included connectors.
I have chosen to build a regular Rohan house, so we need four wall pieces and two short sections. These are added to eachother using connectors, that are either L or T shaped, to create a corner or straight. The parts have different numbers, but don't get confused it is only important to keep track of L and T shapes (and that you have enough to create your idea). Using these parts you are not limited to building the rectangular shape but longer or broader setups, depending on your stock.
Just make sure your frame has proper angles, as the connectors have a bit of play.
Next up the gable. These parts can cover horizontal or vertical planking, are combined with a connector and have a guide for the backside, as you glue them from the inside ontop of the short wall.
The roof is a bigger piece and adds further stability to the kit. You could decide to build this as a unit of its own and keep it detachable. Especially if you base the frame, that will be enough stable enough. The roof ridge is made from two pieces and has small section on the bottom. These are meant to be used, in case you shorten or lengthen a roof not by a whole but only a section (usually a multiple of a wall length). The roof has crossed beams on both sides and a decor, that is either plain wood or horse heads.
The fit is good, but it helps to align it on top of the walls while the glue is still settling, so you can make last corrections until it hardens. This gives us already the complete house. Without extensions of course, but playable or a base for further modification.
The porch / entrance can be build in multiple ways. It can be either open, with a tall door or you could use one of the short wall sections to simple create a bay. These shorter sections are combined using the same L and T shape connectors, but have a special piece that fits below the roof.
Of course this section needs to be covered as well. A smaller thatched roof sections, with a straight and angled piece is assembled. Along with a short beam and decor. Again, here you can again choose between the two decors.
In case you want to add the porch / prolonged entrance on the front, you simply leave the angled parts and roof connectors off.
And with the remaining bits you can usually build a second dormer, to give the building more size.
The sprues cover short sections of fences and two barrels, that you can add on the outside. The fences interlock and can build straight or angled pieces, our you can combine multiples and build a longer fence. And you'll find a rope and two bridles on hooks, to place on the builds as well.
To give you an idea of the size, here's the house shown with multiple fantasy and historical ranges, as you can see it fits quite well beyond the 28mm true scale of the Middle Earth range.
And just to pick your brains a bit, two (of many) different ways to assemble these kits.
Conclusion
I really like the flexibility and modularity this kit provides. And that simply with a single sprue. Not 8 variants, where you have to buy a specific kit or bundle to get hold of a bit you're looking for. By that alone, I am more than satisfied with the Rohan House. But in this review, I have only covered the basic build, that you can do with a single - incl. showing a variant. I'll go into detail on further variants in a second article.
On the first sight, you might say, well this is a Lord of the Rings building, I don't play Lord of the Rings. Neither do I, but with the Rohan being more or less Anglo-Saxons on horseback, there is much you can source from these kit for historical or other fantasy settings. And that gives you quite the possiblity to extend the use of these kits. But same as the variants, more on that later. For comparison, at 34 EUR (or the UK RRP price of 26 GBP, yes that is only 31 EUR ... anyhow), it is slightly more expensive than the Renedra cottage (19 GBP), but provides a much better fit, more value and variety.
It is a pity that the availability of the bundle was so low. A settlement or town lives from having a few buildings and not just one or two, and by that it would be great to have a deal or bundle of some sort again in the future. Especially as some of the variants you've seen in the display require more than just one kit to build.
The Lord of the Rings and Middle-Earth Strategy Battle Game are tabletop miniature games by Games Workshop.
The reviewed product item was provided by the manufacturer.
Enjoy this article?