The Rohan reviews for next week are ready, I had the time to tinker on these kit and prepare some scale pictures. Very interesting kits, beyond the fantasy setting. But more on that later.
While preparing the models for thursday nights painting session, I came across a problem I had with some Army Painter spray can. Leakage. Does anyone know how to avoid this? I am storing the cans upright at room temperatur.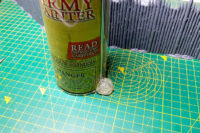 With a broad palette of greys I attacked my fleets of Cruel Seas. I quickly noticed that the colour charts and ressources that I had (mostly pictures of model kits), brought me the problem that what I saw did not translate well into the small scale of 1:300. Especially as some sections were framed by details that just don't exist on that scale, forcing me to freehand. Any, I will get back to it, base colours and wash for the first stage, with added camouflage for veteran and larger ships, and of course weathering.
And Warlord will extend their endevour to naval wargaming not only with the new Close Quarters supplement for Cruel Seas, but a re-print of Mongoose Victory at Sea.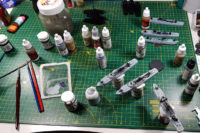 Osprey Games' Last Days supplement Seasons arrived last week, looking forward to give it a try. Read a battle report on TabletopStories, so might give it a go. And most likely cover it in a review down the road.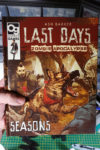 I came across this section in the current LIDL leaflet, that they have different types of spackle / filler at 2 EUR per tube on sale. I use these products for in terrain building, for example to create structure on MDF. Just a heads up, as this is much cheaper compared to the DIY-stores.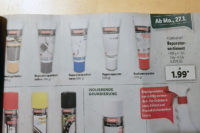 And I continued adding a bit of equipment to my camera set up. So after the Lens Hood, I got myself a LED Video light. There are multiple options for this on the market. Bigger ones for sure, but this one appealed to me, as it doesn't use a Sony battery pack but can be charged using micro-usb (so I could use a power bar or even load it in the car). This led panel covers a range of 3.200 to 5.600 Kelvin, so warm and cold / day light.
It comes with a ball-joint that fits into the hot shoe, so I can either use it on the DSLR on top or using a spare flash base as an additional light source. In the studio it will provide additional light and you can see the difference in the third picture. I can now lower the ISO, having a crisper shot. But the biggest advantage will be at shows, to have a mobile light source. Yay!
Of course, the weekend update closes with some streaming advice. Picard is back! And I am quite happy that it is available via Amazon Prime in Germany. As I am currently at the end of season 3 of TNG, I have a bit of a base for that show. I liked the comparison, that Picard stated on the rescue of the Romulans with Dunkirk.
There is a new New Zealandian series, The Dead Lands, based upon a movie from 2014 of the same name. It's on my schedule, didn't have the time to watch it. But I like the story about Maori Tribes, a topic that I got in touch with at Te Papa and several other museums in NZ.
Sky is showing the 3rd season of Babylon Berlin, a well-made cooperation of the public Tv company and Sky. It will take quite the time until the series will be available in free-tv. And by chance I was made aware of the 2nd Supersize Me (Holy Chicken) movie. Interesting insight on Big Chicken.
That's it for today. Have a great sunday!
Enjoy this article?