We're closing on week 2 in the home office. So what happened since the last weekend update? We had two reviews this week, supported some local stores, stocked up on candy and craftbeer, ordered at three miniature companies / FLGS that are currently missing out on sales due to closure and cancelled events.
I continued preparation on the next set of terrain pieces, as well as the final set of pictures for the battle sanctum.
Just a brief interruption - to the people that found it necessary to spoiler the contents of the Adepticon replacement preview stream. There were people looking forward to this. Let people enjoy things.
I watched the stream, while we had our chat parallel running, it was fun, almost like sitting together on the couch. Hats off to GW, under the current situation they made the best out of it, and it was entertaining. And I liked the personal note, how everybody participated from their man cave, hobby den or otherwise wargaming related corner of their flats. It was by far not the only stream of an event that I watched this week, the award cerenomy of GreatPlaceToWork in ITK that would normally be held in Munich was moved to the internet. Our company improved from 7th place least year, to an amazing 3rd place within their trade, and 6th place all over in Germany. Yay!
But let me continue with more pleasant diversion. A lot of companies help to do so. Osprey Games and Osprey Publishing both jumped in. At Osprey Publishing you can download five free ebooks (with some more releases following up the in next weeks). And Osprey Games did similar with Frostgrave and a few supplements.
We've talked about the Tabletop Simulator two weeks ago, and if you look into the Steam Workshop of that game, you will find a lot of modules. To make it easier for your, I listed a few that I found.
If the Tabletop Simulator doesn't work for you. There is for role playing games and smaller tabletop systems, a nice alternative - Roll20. Combine the software with some artwork by 2 minute tabletop and you're good to go. I guess that Roll20 could work well with some games without the third dimension, like Black Seas or Cruel Seas.
Let's take a look at what to watch or listen too. Beginning with Trek, the finale of season 1 of Picard ran on Amazon Prime. Quite the twist at the end and not really a cliffhanger. A completely different storytelling, but a lot of easter eggs for TNG fans. I didn't get back into the spin-offs like DS9 or Voyager, but managed to watch the first three TNG movies, but well ... I think the rating speaks for itself. As these weren't that good, I just might watch Nemesis again just for the sake of completeness.
Star Trek Generations 5/10
Star Trek First Contact 6,5/10
Star Trek Insurrection 6/10
You might think, those ratings are too high, especially after watching Mr. Plinkett's reviews on the movies on Red Letter Media. Well, maybe. It is not something that I really would set up for movie night, but movies you could put on while you're painting or so. I still think that I really have to give DS9 a few (maybe a few more than a few) episodes to get me hooked, as I like Worf and would like to see further stories involving him.
Netflix added a couple of Comedy Specials, and I really like the "Sober October" Crew, so Bert Kreischer - Hey Big Boy and Tom Segura - Ball Hog were a bank. I really enjoyed them, had good laughs, not the bang! I hoped for, but still very solid humor. I am looking forward to April 14th, when Chris D'Elia goes online with his special No Pain.
One of my favorite podcasts is back with episode 13, KRAUTHORN. It's german, but hey wouldn't that be a lovely task to learn a new language during this interesting times?
If you want to think about something inspiring, imagine being an austrian body builder, becoming a action movie star, later Gouvernor of California and now spending your days, having a good time, while riding a bicycle with your donkey and pet horse in your yard. Oh and he posted a PSA on washing your hands.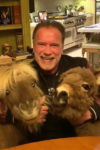 There are a couple of interesting painting and hobby challenges going on, I'm afraid that I won't be able to participate, but I'll try to paint some terrain, and lower the review backlog. That's it for today. Stay safe, stay at home. If you want to know what I am up to during the week, drop by later or follow me on Instagram.
Enjoy this article?