Happy Easter! Virtual easter eggs today. Three reviews on here this week, the warbands of the Wurmspat and Hrothgorn, as well as St. Celestine with Battle Sanctum.
I had chance to take a first glance into the Claymore Castings package, that I ordered. And this week a small package by Troublemaker Games arrived, with some samples for 6-8mm plastic terrain, that I'll look into shortly. The prolonged weekend enabled me to go through a couple of Frostgrave sets, preparing some articles that will go along with Dino's ongoing series A sword and sorcery adventure.
It is week 4 of self-isolation. Availability of pasta has increased and we were able to source some spelt flour, as we bake the bread for our daughter ourself. The weather has certainly changed for the better, including increased temperatures. I'm quite lucky with the view out of the back of our apartment. As the delivery of the sandpit was again delayed, we have to see for further indoor activities. For example painting with the little one. We have coloured pencils by Stabilo, that have the advantage to be water soluble, so you can wipe them off if one goes beyond the drawing paper.
Along with the tortilla press, I got myself 3 kg of Harina de Maiz by P.A.N. (that was prior to this whole panic buying). As I can't always make tortillas (well, I could, but that would become a bit boring), I am looking into other recipes that can be made from the precooked corn flour / Masa Harina, and funnily enough the P.A.N. youtube channel covers quite a lot of ideas.
So I went with chicken popcorn, with corn flour coating. I made sweet corn bread as a dessert, with honey and maple syrup in the dough, and I prepared a batter and made corn dogs (not using Frankfurters but proper Bratwursts). But not everything is corn related, Tortellini with bacon and cream (a bit of a mixture of Alfredo and Carbonara), and for today there will be spare ribs (some with classic BBQ sauce, and some with korean bulgogi sauce).
But let's get back to our hobby. The input increases, that can help you ease your mind through these weeks.
Osprey is in its third week of free ebooks, B-25 Mitchell, RPG, German Paratroopers, Fallen Timbers and Medival Polish Armies. There is a Solo-Scenario for Clash of Spears available for free on Wargames Vault. And Games Workshop added a solo Troggoth Slayer scenario as well via Warhammer Community. They even did a brief article on how to play a wargame remotely on there as well, something the Perry twins covered a bit earlier this week on their facebook feed. Along with a brief tour through Michael's gaming room.
LittleWars did a brief guide on solo gaming for Wargamers.
Since last friday I have access to Disney+, that adds a bit to the streaming game.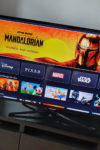 Unfortunately the content isn't really new and if you've been casually in the cinema the last few years, there is not much to catch up. All the Marvel movies, I have already seen, same goes for the Star Wars movies. As for the Disney classics and Pixar movies, the same. If you're at the same level, so far only the Mandalorian is something new. You have the chance to rewatch some movies, that are not really running on tv, like Disney's Robin Hood from 1973 or 1963's The Sword in the Stone. There are some older cartoons in there, like the X-Men animated series (1992 - 1997) or Gargoyles (1994 - 1996). As for the more recent content, Gravity Falls (Disney+ even covers the short movies) is surely recommended. And I might to give Clone Wars a try, as I've read very positive feedback on it for the overall storyline. But that is there for the long game, after I've made it through 90s Trek.
I started to enjoy Deep Space Nine. I am currently in the second half of the second series. The story is building up, you get the first glimpse of the upcoming threat through the Dominion. And it is interesting to have some story arces, that go over multiple episodes. And those episodes are certainly different from TNG, and it feels a bit like a Sci-Fi western. The space station is out there, far from the Federation space, a bit like a new settlement in the wild west, with the fort of the US Cavalry a few days away.
Westworld lost me last week. The third season just doesn't appeal to me. To much people talking, monologues on powerplay, etc. I watch the show for the scenes in the theme parks, not the half-and-half dystopia / utopia sci-fi. Yeah, the Game of Thrones easter egg was neat, but that still won't make season 8 any better.
That's it for today. What's up with you? What activities did you enjoy in the meantime? Did you give solo or remote wargaming a try?
Stay safe, stay at home. If you want to know what I am up to during the week, drop by later or follow me on Instagram.
Enjoy this article?