To make my future Gaslands table more interesting, I have set out to create a few stylish terrain pieces in a Wasteland style. Originally I wanted to make the track boundaries more visible, as well as corners and obstacles.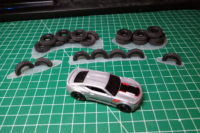 The tires are from the farm set from Van Manen, costing five to six euros for 50 pieces, and visually roughly the size of tractor tires. They are perfect for marking out small sections of track or building stacks of tires. What they are unfortunately not suitable for is a spray primer - these have been primed with Chaos Black from Games Workshop and apparently some kind of chemical reaction happened.
Even after several days of drying, the spray paint remained liquid and the terrain was not suitable for processing. At least I had no problems to picking the broken pieces up, because they stuck together nicely...
Well, there must also be failures in the hobby, and this one has enriched my experience. The next try I will probably do without primer and simply dry-brush or ink the terrain directly. Let's see how that will work out.
However, I did not let this discourage me and I immediately sat down for some new pieces of terrain. With a few simple stones from the yard and a few cactuses from Pegasus, I built some smaller obstacles. They should improve every game table and make the races more challenging. Some of them I will even be able to use for Dead Man's Hand, because the sand theme fits in well there.
I have also already finished a smaller piece. This grave of an Idris driver was created from the remaining wheels of the Nissan Titan. Miniterrain of this kind is a great and easy way to fill the evening with a little hobby, if you lack the muse for more ambitious projects.
See you at the next trip to the Gaslands!
Dino
Enjoy this article?