Most of my Wild West miniatures are by Artizan Design, most of them - and that might shock you - even painted.
The last time I added to that collection, were Wargames Foundry Old West models that I bought at Salute 2018. Similar to Claymore Castings, I had my eye on Boot Hill Miniatures as well for a longer time, but they don't do shows so I had no chance to pick them up at Salute nor Crisis, but Helion & Company is one of their stockist (a fact that I was made aware of _after_ I went to Salute). So now with no shows happening for the foreseeable future and a dropped pound, I decided to order directly (the roughly 7 GBP shipping cost was something that kept me from ordering).
Anyhow, I ordered back in late march, Nick even got in touch with me that he'd pack and ship the order as soon as possible, but due to the UK lockdown, problems with the mail and health troubles, it took a bit to arrive, roughly a month.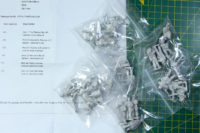 The range of Boot Hill miniatures is mostly set around 1830's Texas Revolution / Independence War, of course incl. the Alamo and on top of that adds a bit of Hollywood, with characters like Zorro (aka "The Masked Bandit"). With these Boot Hill is an interesting miniature range for those who play the skirmishers like Legends of the Old West, Dead Mens Hand or Shootout in Dingstown, but platoon sized wargames in the wild west as well.
As my focus is more on the smaller games, I was amazed by the great sculpts of Cazadores, Zapadores and such, but had my eyes more on those individual characters that could form a posse. The Alamo surely is an epic part of the history in the 19th century, but I just feel more like a Deadwood or Westworld like setting. So I ordered these codes and came up to around 50 GBP incl. shipping to Germany:
Mex 1 The Masked Bandit
Mex 39 Crocketts Tennesseans
Mex 42 Texians in Buckskins
Mex 62 Mariachi Band
Mex 60 Male civilians
Mex 55 Sam Houston
Interesting coincidence, these are Matthew Bickley sculpts as well, like the Claymore Castings from last week. Matthew sculpted many historical ranges, for example the newer Foundry Normans and Saxons, or Late Saxons for Footsore. As well as some fantasy or pulp miniatures for Studio Miniatures. But I didn't know that he sculpted wild west miniatures as well.
I know, Zorro is neither a Deadwood-type character, nor really part Texas Revolution. But hey, what Western collection would be complete without the masked bandit? This set covers him mounted and on foot, in both cases with his rapier. As I am too young to have seen the old movies and tv-shows, my most present image of Zorro is Antonio Banderas, in The Mask of Zorro, with the lovely Catherine Zeta-Jones.
I think the sculpt covers in both poses the flamboyant personality of Zorro. A must have for me.
The range covers a great set of civilians along with a Mariachi band, and those just give a lot of live to your wild west town, saloon or main street. The civilians are 7 GBP, the Mariachi band incl. a flamenco dancer 8 GBP. I like to have some non-combatants in my collection as well, and as part of a posse or two.
This set is Sam Houston (mounted and on foot) and Moseley Baker, along with a barrel and a bottle of maybe Whisky. Sam Houston was the 7th Governor of Texas, but that was not the reason why I bought him. I liked the mounted miniature, he could be a "Pony Express" rider (yet with a larger horse), or as he reminded me of Samuel Adams or the Pawtucket Brewery, maybe he's a brewery owner (that provides so many ideas for scenarios). And most of all, I probably need to build a small brewery as a terrain piece for my western town.
I was quite fond of the mountain men that Foundry covered. Wild looking guys, but these two sets Crocketts Tennesseans and Texians in Buckskins, with fur and leather clothing, makes for a more feral look as well, but are a bit more colourful and fit the 28mm scale of my remaining range better. I really like the small details, like the peg leg, racoon hat or the cutlery/pans on the belt.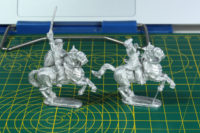 The only thing which is a bit sad, that the horse of Sam Houston and Zorro is almost identical, as you can see from the picture above. The pose is the same, just minor details are different, like the horse blanket and horse's tail. Other mounted miniatures have other horses, I just happened to pick the two models from the range that use more or less the identical horse.
And of course the question most people will have, do these fit in with my existing collection? In my case, they did quite well. As mentioned above the major part of my western project are Artizan Design, but I have miniatures by Crusader Miniatures as well, which are the closest in scale. Foundry tends to be a bit smaller, but still work quite well. The Perry Miniatures sculpts from their ACW range are an interesting addition, as are some of the Brigade Games Wild West range, sculpted by Paul Hicks. The later two are more on the realistic true scale proportion side and might look a bit slender compared to the more bold sculpts of Artizan, Crusader or Boot Hill. In addition, Brigade Games is a bit hard to come by in Europe, especially after North Star dropped carrying the range.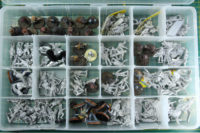 I am content with the miniatures that I received. The price of 1,5-2 GBP per foot miniature and a bit more for the mounted ones is reasonable. The quality of the cast is proper and beside the fine rapier of Zorro, I had no problems with bent parts.
For my personally, this was the final puzzle piece of my collection, I would say I am complete now and the next step would be to properly form the models into groups, continue painting and build some fitting terrain (you know, the brewery ...). If you don't want to wait until then, you could take a look at McMiller's Outlaws by Dino in the meantime if you like.
Enjoy this article?