At the beginning of March, the starter box of Mortal Gods found its way to me, which was exactly my thing, as I have a little bit of a thing going for Greek mythology. That' s why now is a good opportunity to make a longer running project out of it, to paint everything up and put some heart into it.

For projects of this kind I have a few preferences. I like it when I have everything I need to play in one box. Meaning there are two factions in the box, an easy to learn set of rules, game equipment like dice and the likes, terrain and a game field.
The content of the Mortal Gods starter box satisfies most of these criteria. Inside there are enough frames from Victrix to build two medium-sized armies, enough MDF troop bases, special Mortal Gods dice, markers and cards which help you choose your own army. The rulebook is pleasingly lean - the mechanics are similar to those of Test of Honour, with the addition of the ability to form a phalanx for the troops on triangular bases. This gives the system an interesting touch.
As you can see on the picture, the box is big enough to accommodate a few more layers of foam later on to store the painted miniatures in the box again. Unfortunately the material is a bit loose in the box, which means that some parts, which are already under tension in the frames, can break. Footstore offers a first-class service though and replaces damaged pieces without any trouble.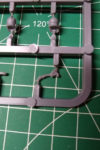 Terrain and a game field were not included in the box, but this is not surprising, since only a few manufacturers have included this in their tabletop products so far. Ad hoc I can think of the Infinity starter boxes from Corvus Belli, which usually come with a few cardboard buildings and a foldable paper game field. An idea that could also be implemented in the historical and fantasy area, for example, by adding printed cardboard pluggable terrain. The system could be similar to Christmas decoration, for example, like this table tree: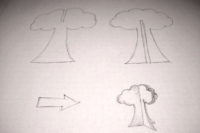 Anyone who is already a tabletop hobbyist for some time now, will certainly create 3D terrain over time, but adding inexpensive beginner terrain and a playing field has the advantage for the hobbyist of getting a round, self-contained product that can be packed away if necessary and used again at a later time. This usually happens in moments when inspiration strikes.
Did I just say inspiration? As I've mentioned countless times before, computer games are a great source of inspiration to me - as they are to Mortal Gods. If you are also looking for inspiration, I'd like to share with you three titles that can motivate you to give your minis the appropriate flair.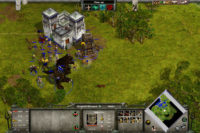 Age of Mythology is probably the oldest title on this list and as a real time strategy game offers a mix of building and troop management. The latter are made up of mortal and mythical troops as well as heroes who follow a rock-scissors-paper principle.
If you like it a little bit simpler, however, the hack 'n slay Titan Quest is a good choice. The game has become so popular over time, that even a decade after the initial release, more add-ons have been released.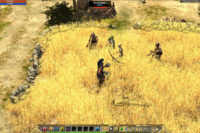 If you're looking for inspiration for terrain building, base design, or simply creative impulses for your army, I recommend Assassin's Creed Odyssey. The game world is simply breathtakingly designed and offers an extremely large amount of visual material for hungry eyes who want to build a mediterranean style board or those who wonder how to make their MDF terrain look "greek".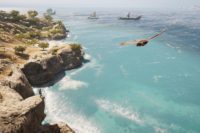 So much for the intro for my upcoming Mortal Gods project! I hope you'll stay tuned - since we don't have a Patreon page where we can collect money to afford light hearted hula girls and finance our luxury villa on Hawaii, we would be happy to get a comment and a Like on our Facebook page instead!
Greetings from Olympus
Dino
Enjoy this article?