DRAGOOON! Who hasn't heard that in a fantasy setting before! Dragons belong to the classic fantasy genre like fries to ketchup and coincidentally my daughter has a toy that is just that: a dragon.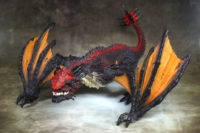 When I picked up the dragon, I was quite surprised at first. The figure with the name "Fighter" from the company Schleich fits amazingly well into the 28mm scale and offers quite a high level of detail for this kind of product. Only the teeth of the movable maw are missing a little bit of it, but this should not be a problem for more advanced painters.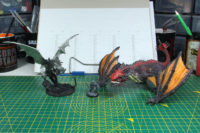 If I refer to computer games like Skyrim, the dragon even seems to fit a little better than other models on the market in terms of size. The dragon measures about 20cm from the snout to the tip of the tail and is about 5cm high (up to the raised tail tip 9cm). Because of the material it is very light and therefore easy to transport, ideal for roleplay evenings or scenarios. You need a beast that guards a pile of gold in its cave? No problem!
The picture shows a Frostgrave barbarian as size reference and the Red Dragon from Reaper, which is also available in the Bones series for Pathfinder. Unfortunately, the dragon "Fighter" is no longer officially available from Schleich, but I don't want to give a review here either, but only take a look beyond our usual scope of products.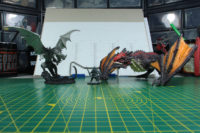 For Frostgrave in particular, many of the Schleich products are ideal, whether as giant animals or as material for terrain. The good thing about the Schleich range is that you can often get them in good condition at flea markets. So if you need animals or creatures for scenarios, the Schleich animals are a good choice.
For my part, I will now have to prepare the barbarian for painting and figure out a scenario for Frostgrave. After all, there's nothing wrong with playing a Dovakin as a wizard, right? FUS-RO-DAH!
Greetings from Felstad
Dino
Enjoy this article?