Games Workshop gave Aeronautica Imperialis an update with 2020, a new starter set, with Skies of Fire, covering the Imperial Navy against the T'au Empire.
Skies of Fire is a stand-alone boxed set, that provides you with everything you need for your (first) games. Two squadrons of plastic miniatures, a rulebook, tokens and dice, even a gaming poster. The price is at 70 EUR (68,24 EUR in Germany until Dezember 2020). Similar to the first starter set and the available books, Aeronautica Imperialis is only available in English, with no translations planned / announced yet. Interestingly enough, the "old" 2019 starter set Wings of Vengeance (which I covered here last year) is still available.
The box is properly filled. For protection there is a sheet of large bubble wrap, under that the sprues for four different types of flyers, along with their bases and flying rods. A couple of regular D6, a reference sheets, a card board sheet with tokens and a decal sheet. There is another seperator, a thin cardboard in the size of the box with the painted miniatures printed on.

There is a roughly 3 by 3 ft. double sided poster included, to be used as a gaming board. You will notice that the 2019 edition of Aeronautica uses Hex fields instead of free movement. The use of hex field maps is quite popular with aerial combat games. For those who do not fancy using a poster, there is a card board game plan available, Taros Area of Engagement, which provides a very similar design as the poster. Beyond that there are already third parties producing mouse pad gaming mats in a fitting size.
The rulebook itself is a 36 page softcover and only covers the basic rules along with the profiles of miniatures included and a sample scenario the Dogfight. The additional content, like the Vulture Gunship or the AA guns, are covered along with rules for campaigns and further scenarios, are covered in the 96 pages Taros Air War campaign book. The movement diagrams used to be a sheet, but now are included in both variants of the rule books.
I was already amazed by the quality of the Aeronautica sprues last year, and these new ones are on the same top level. Tightly packed with bits and options, very crisp details, similar to the Adeptus Titanicus range. The casting quality is so high and incredibly well done, that there are nearly no mould lines. Unlike other starter kits, these are not easy-to-build and / or push-fit models, but proper multi-part sprues. So you get a regular sprue from each of the Lightning Fighter, Valkyrie Assault Carrier, T'au Tiger Shark Fighter Bomber and T'au Barracuda Fighter boxes. Adding up to a total of 5 aircrafts per side.
The leaflets are simple single fold, double sided A5 booklets. As you might know them from the mid-range Titanicus kits (they started with coloured leaflets, incl. paint schemes, moved on to grey scale instructions and went down to very simple assembly instructions with the Acastus printed on regular paper). Unfortunately no paint schemes of the different squadrons or so in these leaflets. Something you'll find partially in the rule book and campaign book. For further reference I can highly suggest the Imperial Armour or campaign books by Forge World.

Let us begin with the T'au Air Caste. We have two different types of flyers for them in this box, the Barracuda Fighter and the Tiger Shark Fighter-Bomber. And we will beginn with the Fighter, of which we have three on the sprue.
The main hull is quickly assembled, just the cabin and wings onto the main body. Adding the exhausts on the back and the turrets / drones on each side. The drones can be turned and their weaponry angled.
The Barracuda AX-5-2 armed with a Swiftstrike Railgun can be upgraded with two different variants, turning it into a 5-3 with a Swiftstrike Burst Cannon or 5-4 with an Ion Cannon. Similar with the turrets which can be armed either with a cyclic ion blaster drone or long-barrelled burst cannon drone. Unfortunately the weapon variants aren't described on the instruction or properly shown in the rules, so it is not self explaining which weapon is which. I tried to give a broad variety and used what I have. You don't have to skimp here, as the kit covers enough bits to build three of each variant, if you want to.
Now let's head over to the Tiger Shark Fighter-Bomber. That one is available in two variants, AX 1-0 and AX 1-0-2. Similar to the other bombers we have seen so far for Aeronautica, the bombers main build is taken from the larger sprue with additional bits for (weapon) variants on a smaller sprue, which is replaced / exchanged for the different versions. In this case the heavy rail cannons or paired heavy plasma accelerators for the AX 1-0. But we have the AX-1-0-2, -3 and -4 in this kit, more on the weapon variants below.
The main body is quite broad but not very high. I was a bit uncertain to the stability of this build, but it holds up very properly and firmly.
As now for the drones, similar to the regular Barracuda, those have access to the cyclic ion blasters or long-barrelled burst cannons. The Tiger Shark can be upgraded with a seeker missile bay. Other than that, I had the same problem, that I couldn't really see which bit would be used for the AX 1-0-2 paired swiftstrike railgun, the AX 1-0-3 paired swiftstrike burst cannon or AX 1-0-4 paired ion cannon.
I went with an AX 1-0-3 with burst cannons and a AX 1-0-2 with rail guns.
And here we have our T'au Air Caste. I have to be honest, I'm really interested if we will see a Manta Missile Destroyer down the road.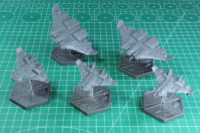 So let us head over to the Imperial Navy and Astra Militarum, same quality of instructions here, double sided, folded A5 leaflets in grey-tones.
We will begin with the Valkyrie Assault Carrier that can be build as a Vendetta as well. With two flyers at hand, we will split the build, one as a Valkyrie and one as a Vendetta. The Valkyrie has a fixed main body, with an incredible amount of detail. The hull is fixed, without a moveable ramp or side doors (as the 40k scaled model provided). Never the less, nothing you would expect in this scale.
From there we can add different weapon systems. A Valkyrie may replace its lascannon with a multi-laser and may add twin rocket pods beneath its wings, or a pair of skystrike missiles. The later are not included in the sprue and you would have to use spares from another kit, for example the Lightning Fighter. To upgrade a Valkyrie to a Vendetta, twin-lascannons replace the lascannon / multi-laser, and you add the twin-linked lascannons to the wings.
The second aircraft for the Imperial Navy is the Lightning (Strike) Fighter, of which you get three. These are kept in the Voss Pattern, a very edgy design, that was used by the Astra Militarum and Space Marines.
The design is similar to the Thunderbolt, but in a much sleeker design. You can see the single cockpit and more angled wings.
The options are rather tractable, you can upgrade a Lightning into a Lightning Strike Fighter by replacing the lascannons with multi-lasers. And in addition to that, you can give them the different missiles below the wings.
I really like the aggressive design of the Voss pattern, perfect for a traitor legion or renegade guard. Along with the Valkyrie / Vendetta an interesting combination. Face to face with the T'au air cadre.
The Barracuda and Lightning are quite similar in size, and the Tiger Shark is in width similar to the Imperial Navy Bomber of the Thunderbolt. And a brief overview of the plastic kits for the Astra Militarum / Imperial Navy in one picture.
Aeronautica Imperialis is about 8mm scale (which is the same scale as Adeptus Titanicus), so around 25% of the 40k scale. But scale is something that goes into every direction, so to give you an idea, side by side, here's Valkyrie next to its counter part from the regular Warhammer 40.000 range.

Wie oben schon erwähnt, der Maßstab passt zu Adeptus Titanicus. So, you could build an airfield, or have a Warlord snatches an airplane mid-flight. The possibilities are vast. But more on that in the comming weeks, when I return to the 8mm scale.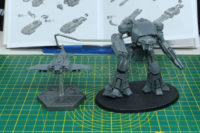 As Aeronautica isn't the only dog fighting / aerial combat game on the market, I want to give you an idea how the models stand in comparison of scale and details. Therefore you can see an AI Thunderbolt next to a Wings of War / Wings of Glory plane, a Blood Red Skies Messerschmitt and a Star Wars' X-Wing.
Aeronautica Imperialis comes with its own hex bases, that covers the indication of the different arcs, along with a speed and altitude dial. On top of that is a clear flying rod with a ball-top, that gives you the possilibity to be posed, diving down, rising up or strafing.
The rules have changed a bit compared to the original of the mid 00's, mostly the movement that went from free to hexes. As we're already more than 60 pictures and a lot of information in this article, I just include this how-to-play video with Becca. On YouTube is only the teaser, the full 20 minute video can be found here: Aeronautica Imperialis.
Conclusion
The reboot starter set is a very round offer. You get two air forces to begin with and a solid amount of material for your first few games. Last year I wasn't clear of the position, that Aeronautica would fill in on the Games Workshop range. It's a sidekick game, that's abvious, but it is not a one-off like for example Speed-Freeks, yet to specialised to be a competition for things like Warhammer Quest or Underworlds. But that's not something it is aiming for. The pricing of the box is not targeting an entry level hobbyist, but still overs a reasonable price point, as the sprues themself add up to more than 80 EUR, if you bought them individually, and that wouldn't provide you with rules or tokens.
Games Workshop is one of, if not the best plastic manufacturer there is in tabletop wargaming and really shows, that there not only able to cover gigantic creatures for Age of Sigmar or Warhammer 40,000, but very well done small scale kits as well. The aeronautica kits are top notch. They have a high amount of detail and quality of casting. Really enjoyable to build. Same goes for the Titanicus range. To be honest, at this point I am more than eager waiting for the infantry and vehicle part of the 8mm scale. Aerial combat is a special part of wargaming, not as niché as naval combat I would say (as you need fewer aircrafts and have less limitations), so the pricing of the models themself is fair. Especially if you compare it with the RRP of similar games, like X-Wing, Wings of War / Glory or Attack Wing.
But as in last year, I am not a fan of splitting the game content. I will cover the campaign supplement in an article of its own. The dice are a collectors thing, I get that. But the card decks, at 21 EUR per faction are a hard pill to swallow and something that should be included in a starter box or be part of the miniature sets. I don't want to compare the 2019 edition of Aeronautica with the first one, as they did an incredibly well done job with that and it's tough to follow on that. So my suggestion would be, instead of charging 70 EUR for the Skies of Fire boxed set, make it a 100 EUR set, incl. the card board game plan and card decks (they did that with all the Kill Zones and Ravaged Lands) right there with it, and may be while you're at it, throw in some ground assets, as they did with the smaller Adeptus Titanicus starter kit.
Other than that, the reboot is well done. The new kits are an interesting and well made addition to the existing range, which is especially for the Imperium a delight. I am looking forward to the further releases, because as it seems, Forge World is on this as well. So there will be more.
Warhammer 40,000 and Aeronautica Imperialis are brands by Games Workshop.
The reviewed product item was provided by the manufacturer.
Enjoy this article?