We've talked about the Mud-Brick house by Renedra earlier this month, and they added multiple two-storey houses to that design. Those are available in three different sizes and come either as single kits or a boxed set with all three of them. I went with the large set of middle eastern buildings, so let's get started.
These come either in a large bag for the single houses or in a cardboard box as a set. The packaging is full coloured and covers scenes of them in use, on the backside the individual sets as well as the Mud-brick house is named. Pricing is reasonable, 8 to 10 GBP (depending on the size) for the single houses and 22 GBP for the set of three. You already save 5 GBP with the boxed set.
The box covers 9 sprues, (2 sprues for small, 2 sprues for the medium, 2 sprues for the tall building and 3 roof sprues). A printed assembly instruction leaflet is part of the boxed set as well. This is a generic set up, as all three houses are build the same way regardless of their height.
Each height covers and identical front and side wall, so each sprue is included two times. They are 108, 115 and 130 mm high for the small, medium and tall building walls. Casting is good, not overly sharp but crisp enough for its purpose. Some of the texture has thin lines, I assume these are part of the CNC mould making process. Mould lines and thin flesh can be found as well, but are easily removed.
The roof and accessoire sprue is the same for every building, covering two floors (one blank and one sculpted with two carpets), two ladders, two doors, two lukes and a few smaller pieces like bowls.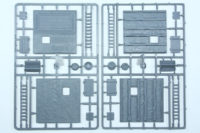 The three sizes in direct comparison. They all have a door on ground level and multiple windows. For a complete building you will need two side walls and two fronts of the same height, and two floors.
Assembly starts pretty easy, you add the lower floor (the one with the carpet) to the tongue and groove connection and add the sides from there for further stability. They have a bit of play, so make sure to properly align them while the glue settles.
The lower floor is sculpted with added details, meaning two carpets.
The roof is not glued in just, laying ontop of the frame.
The gaps aren't a huge problem. Due to the angle and shape of the parts, those are minimal especially compared to some of the other kits. A bit of pva or filler will easily take care of that.
The sprues cover large doors and lukes as well, each one of them two of identical design. You can glue them shut or opened at an angle.
There are further bits included to add to your buildings, two ladders, a couch and two bowls / plates. Depending on how flexible you want to keep it, you can glue them into place or keep them loose and arrange them to your liking.
One of these sets along with the mud brick house would already make for a nice diorama scene, or very compact gaming table.
And these are incredibly generic, but in a positive way. You can use them with sci-fi settings, as the old ork huts are in very similar design, or with Star Wars for desert planets. Obviously a lot of different historical settings, like one of the American campaigns in the middle east or World War two in Africa, depending on how you paint them up, they could even be used for some pueblos in the old west. Beyond that for some low or high fantasy adventures in the heat.
Conclusion
This bundle is a proper bargain, I bought it actually twice. Once to be assembled as seen here and another one to convert. Along with the mud brick house, or maybe two, and a few further pieces like a towns gate, some market stands or some bigger centre building (depending on the scenario a compound or similar) you already have a proper table of 4 by 4 filled with terrain.
Quality is okay and I really like the versatility. I have an on the "foot print" of my collection and going for items that can be used with a broad selection of scenarios and settings is important for me, so these check a lot of boxes. They could have a bigger "floor space", as 8 by 8 cm isn't that large, and as with the mud brick house, there could be a lot more gubbins in there, as the sprues would still cover. But beyond that, with access to a 3d printer or some bits like Maelstrom Edge's terrain sprue, you can improve the use and quality of these buildings by a lot. Imagine just having some wires, AC units or canopies on the walls. Maybe base the buildings and add some to lower surface.
Renedra provides casting for multiple miniatures companies and covers a range of bases and terrain accessoires by themself.
Enjoy this article?