As you can see, I'm writing my review for July with some delay this time. Yesterday, as I was thinking about how this actually happened, it occurred to me that I seem to always have a bit of a hobby slump at the same time of year: July and August. On a rational level, this is due to a combination of repetitive reasons, all of which can be summed up as a "temporarily growing amount of obligations."
Nevertheless, there is at least a small update. For some time now I've been chasing the Animated Statue from the Halodyne range of the game Godslayer. No matter where you order online, it usually costs around 30,- Euro. Even with the 4.17 left over from the previous month, this would not have been possible.
But as fate would have it, Daniel, also known as blackmail82 in German-speaking forums, actually had this model at hand and left it to me for 15,- Euro including shipping.
This put me in a moral dilemma, because I didn't paint a single model in July and actually want to reduce the pile with this project. But the offer was just too good to say no, especially since I know I'll get this model done before the end of the year.
As a special icing on the cake, the package that Daniel had sent me also contained some additional models from Crocodile Games' WarGods. That was perfect, because I wanted to have a look at the minis in comparison for a long time.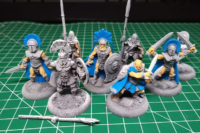 Unfortunately, it turned out that the minis are very beefy compared to the Victrix models. The difference in size isn't that big of a problem. If you have several different sized models in your army, it actually looks quite natural. However, the bulk made the ordinary foot troops in particular look very scrawny.
I think I'll recycle the models as statues, as getting slightly larger models to work into terrain was my plan anyway. It seems like the wheels of fate are interlocking pretty well once again, even though I haven't painted anything this month.
Of course, I am particularly looking forward to the statue. It will replace the Cyclops for my followers of Zeus. The model is not assembled yet, but the snapshots should still provide a good idea of how big the model actually is:
So after I had 24.17 euros available at the beginning of the month, I now have 29.17 euros left for August with the rest from July. In fact, I'm thinking of continuing to save up this month so that there's some money for terrain again. Should I be able to control myself well, maybe even a second play mat will be added at the end of the year.
Greetings from the Chaosbunker
Dino
Enjoy this article?