As Stargrave was supported right away with three different plastic kits, there is no real "first" one - but we have to start somewhere, so we grab the Crew kit as it has the product number 001.
We have a 28mm scaled science-fiction kit, covering a total of 20 multi-part hard plastic miniatures for a RRP of 20 GBP. That goes for all of the three initial kits, the crew, the mercenaries and the troopers. The crew is the "core" of most warbands, not just armed up troops, but actually people who make up the crew of spaceship - thus the name.
The Crew box covers 4 sprues of 5 miniatures each, along with two stripes of 20 flat 25mm diameter round bases. Casting is properly done and on the same high level that you get from the Renedra, Plastic Soldier Miniatures or Warlord Games kits. Proper use of the available space, so you have a lot of options for the five bodies to add to, lots of heads, different arms and gear.
Content of each sprue:
5 Bodies
20 Heads
8 arm pairs with rifles
6 right arms with pistols
7 left arms
1 right arm with empty hand
15 Bags and pouches
As you can see in the close up, crisp details and no issues with the casting. Minor mould lines. Yet, you can see those miniatures were digitally sculpted and not transferred in the classic way via 3-ups into the mould. For me that shows the most clearly by a bit round finish around the edges and not that hard edge, that some of the older kits, for example from Frostgrave show.
As mentioned above, you have five different standing bodies. Those are humanoid, bi-pedals and without a socket, slab or other connection to the ground. You simply glue the models on their feet to the base. The crew wears practical clothes with sturdy boots, belts and other things that would fit a crew's uniform.
The arms are marked in some cases with letters, to show which pairs go together. As this is the crew, we have a certain number of tools and "spaceship gear" if want to call it that way, to equip your models with and not just guns and rifles. For that reason, I chose a data pad, a wrench and a medical scanner for this set of 5, the other options are different pistols, sub machine guns and rifles.
You have 20 different heads to choose from, humanoid and aliens, partially combined with masks or helmets. I went with a bit from everything, to create some diverse and colourful crew members.
The final stage are now the last gubbins, like backpacks, small pouches and other generic gear, that can be added to the belts, back and straps on the models, to add the finishing touches.
The first picture shows the Stargrave plastic models from the different sets, so those are Crew members, Troopers and Mercenaries. As you can see, they are around 28mm from the sole to the top of the head, with a slightly heroic scale.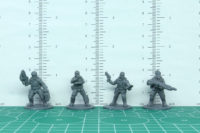 How does this compare with other sci-fi miniature ranges? Not too bad with the pre-primaris Warhammer 40k range, as you can see. The Stargrave range can be mixed with Bolt Action, as needed (for example for further gear or some rural planets out there), but is clearly smaller than the 35+ mm scaled Star Wars Legions.
And it fits very well with the Wargames Factory, Wargames Atlantic, or Maelstrom ranges, and offers the sharpest details from my point of view from that batch. Dreamforge Eisernkern tends to be a bit taller, Antares is a bit slender, more true scale in direct comparison and the older T'Au shows that it fits within the not most current scale creep models from Warhammer.
Here we have the first shot of our new crew, with an exemplary set of the following types of soldiers;
(Left to right): Runner (Pistol, Knife), Pathfinder (Light Armour, Carbine), Hacker (Pistol, Deck), Trooper (Carbine, Heavy Armour), Chiseler (Pistol, Picks).
Conclusion
Very solid kit. As with the Frostgrave kits, these are proper value. 20 miniatures, 20 pounds, no need to argue. You would basically be able to field your warband, or maybe two, directly from this kit. The way the miniatures are split, the availability of three different kits of gear from the start provide a vast variety and choice of options. And if you add to that, the other ranges that are available by North Star / Osprey, like the Oathmark range, or most obviously the Frostgrave kits, you are barely limited in your imagination and creative. Even beyond that, due to the chosen scale, you can mix in here the gunfighters from Great Escape Games (BraveStarr, what else) or bits and pieces from the many Bolt Action kits, giving your even more bodies to bring into the future, along with more heads and arm options to go along with it. The only thing missing from this kit, as it is primarely covering regular crew instead of soldiers, would be more civil / non-combatant equipment instead of the amount of weapons it covers per sprue.
We will pick up the other sets in the coming days as well, showing you what broad range of bits and pieces, you have available to build your own Stargrave crew. North Star offers single sprues sales from time to time, otherwise I recommend getting these boxes with multiple people and trading sprues for most value.
With some bits added, these will create proper stand-ins for Middlehammer settings as well, for example if you don't fancy paying eBay prices for Frateris Militia, or would like to add some civilians and NPCs to your Necromunda or Inq28 projects.
Stargrave is a brand of North Star Figures and Osprey Games.
Enjoy this article?