The forces in Epic 30k give you the option for air support, and as I already some Aeronautica Imperialis miniatures around, I saw the opion to use the Xiphon Interceptors. Initially, those didn't really fancy for AI, but as you can field them as an attack wing in a of pair two, I thought they might be a good addition.
The kit offered by Games Workshop for the Aeronautica Imperialis range covers six of them, so more than enough. So I picked them up along with some painting material at my go-to store, Radaddel.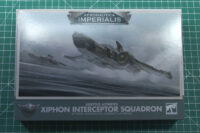 Like the other Aeronautica kits, these come with the flying bases and generic space marine decals (covering chapters / legions like Salamanders, Blood Angels, Dark Angels, Space Wolves and Ultramarines), so neither Imperial Fists nor Sons of Horus. But that isn't a problem, more on that further below.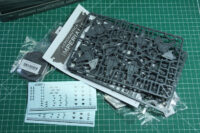 You get thise sprue twice in there, each one covering 3 Xiphon Interceptors. Casting is crisp but there no options.
Quickly build, even with clean up the six models didn't even take 30 minutes to assemble. And I really like the clean computer drawings in the instructions.
I decided to split the box in two sections of three, supporting the Imperial Fists and Sons of Horus alike, and a brief scale comparison with other Space Marine aircrafts from the range.
My initial idea for the "dual" purpose of my Aeronautica collection was, to have the Imperial Navies used as an air support, but as Games Workshop expanded the range more and more, things like the Thunderhawks are set, as they are incredibly cool models and such central pieces of a Space Marine forces, that I couldn't resist.
Yet, I want to make the forces in Epic scale a bit more colourful and make use of the size of the game, so adding supporting units from other legions (at least colourwise) to the traitors and loyalists, sounds like a fun idea. For example have the assault units like Bikes and Jump troops that fight alongside my Imperial Fists be Blood Angels, which fits the Siege of Terra and make use of the Traitor Alliance on the other side. Yes, Xiphons would make sense with Sons of Horus without any doubt, but I thought if they were part of a small World Eaters detachment (with Kharn as a Champion along with some reaver squads) would be nice.
Yet, beside the pre-heresy colours of white and blue (along with some small red and brass details), there is not much set for that idea. So I played around in Photoshop, which variant should it be and where would I get 3 to 6 small decals for this.
So what should it gonna be? A, B or C?
Enjoy this article?