APRILFOOLS
A full 48 colours covering paint range (that will be further expanded to cover the whole Pantone Formula Guide). Because if everybody offers relabelled paint pots, why shouldn't we? And the best part - it is not even crowdfunded. Yet, every batch is hand mixed by the painting baristas, so each and every pot is unique and may vary a bit from the last one.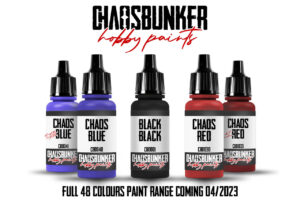 A brief excerpt from the paint range
CB0001 BLACK BLACK
CB0002 CHAOS WHITE
CB0003 CHAOS slightly lighter GREY
CB0004 CHAOS GREY
CB0006 CHAOS a bit darker GREY
CB0030 CHAOS RED
CB0031 CHAOS RED non-pink highlight
CB0032 CHAOS slightly lighter but not yet CHAOS ORANGE RED
CB0033 CHAOS a bit darker RED
CB0041 CHAOS slightly lighter BLUE
CB0040 CHAOS BLUE
CB0042 CHAOS a bit darker BLUE
The range of base colours has three Hobby Paints Extreme, that do shadows, highlights, gloss and even stripping - if you leave them on long enough - all at once.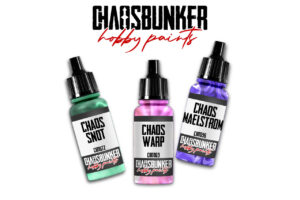 RRP of the paints (17 ml) is 4 EUR / 5 GBP / 8 USD and they will be available for pre-order after easter.
Enjoy this article?