Thanks for taking a joke like a champ! Had fun with this years April fools, our own Chaosbunker Hobby Paints!
Last year we covered a Premium Lounge, and I have to think about what to do next. But as for the hobby paints, I have an idea, that I have to follow up on. Maybe a sauce?
A few interesting arrivals did take place in March. For example the We Have Ways of Making You Talk podcast had charity miniatures done by Paul Hicks one an eBay auction, and I took the chance as the lot was very quickly sold out.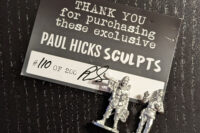 More Paul Hicks miniatures arrived with the Kickstarter of Barons War Outremer, and the range properly mixes in with the other miniatures that I use for my moors. I added the Black Guard from Footsore and some Muslims from the Perry Range.
Yet, I think warhost missed a chance on the book backs, as it would look proper cool. Still, the Peter Dennis Artwork is stunning.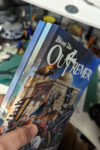 As for books, after 4 months my copy of Dice Men arrived. But unfortunately in a condition, that is not what I expect from a new book. So I sent it back and am waiting for a replacement...  just what I wanted, after the initial very long delivery.
Staying with Games Workshop. They offered another Made-to-Order run, and while some in past weren't that bad or quite reasonable, like the Blood Bowl Halflings or Skaven Characters, they full on are overstepping the mark with this one. The Steel Legion was released in 2000, along with the Codex Armageddon, a campaign supplement for the third edition of Warhammer 40k. A new regiment of the Imperial Guard, focused on Anti-Ork warfare. And as much irritating the whole squad for 55 EUR is (GW carried some of the older metals als mail order exclusives for around 35 EURs for a squad of 10), the single miniature prices are completely bonkers. 24 EUR for a single special weapon guardsmen? They were 2 for 6 GBP in 2006 and even today you can grab something similar for 12-15 EUR from their range. I have my own squad of them, bought it a while ago for about 25 EUR for the whole squad of 10.
It's a mixture of things on these, that I find infuriating. Those are old models, design and development is written off and earned 10 times over. This is a direct sale, they don't have to charge the margin with anyone. They are not kept in stock, so no logistics or overhead costs. They produce, what was ordered, with maybe a bit on the side for replacements. No risk, everything is already paid for when they start production. So why, was here the need to add such a mark up beside the very obvious, "Fuck you, you are going to pay what we tell you" attitude. The prices are farr above the 2nd hand market value, but will increase them, as they always do, and provide the scalpers with a new anchor point. I don't expect them to give them away or sell them cheap, but at least keep it reasonable or in some kind of relation with the other things you offer. This is unnecessarily harsh on the collectors and nostalgia.
And while they were at it, they complete missed to actually re-release the only Steel Legion miniature that was rare, the Sniper from the specialist games / Necromunda range.
I bought some airbrush equipment at PK Pro, and thanks again to Jan-Felix for the proper consultation. Didn't have the time to try it out yet, but have hopes that over the easter holidays I'll come around to do that.
I saw these at Tactica at a booth, but had no intention to carry all the boxes with me in the train. Gale Force Nine can be difficult to acquire, as stock is often an issue (they're distributed from New Zealand), but the product line is proper. I covered them a while ago on here, and these badlands are a nice, pre-painted addition to a lot of scenarios, from Old West, to Gaslands, Desert Warfare of all kinds, even across scales. I'll have to prepare a gaming mat for these, but it's already in the making.
I think if I add some GrimDarkTerrain buildings and some of the items that I build from the Civitas Imperialis kit and Manufactorum Imperialis kit, it should provide me with a proper table for Titanicus.
Enjoy this article?