So, here I am with my Kriegsmarine Flotilla for Cruel Seas. Next step would be painting the ships. Therefore I researched camouflage and denominations for those models.

With the German Navy it was not custom to give boats names. Some crews gave their ships inofficial names, but those were never documented in the navy records. The policy to name ship classes after the first boat of that class, was first used after the war and introduced by the Bundesmarine (the navy of the Federal German Republic). Sweeping boats didn't originally carry the class names listed on pages like wikipedia and such. A bit like with Hetzer for the Jagdpz. 38t.
That is a bit of a buzz kill, as I was looking forward to have names like SMS Emden, Hecht and such in my Flotilla, but they only carry numbers. For the six E-boat type Schnellboote S-100 I can choose from these ranges.
S 100, S 127 to S 150, in service May 1943–1944
S 167 to S 232, in service 1943–1945
S 301 to S 307, in service 1945
As for the six E-boat type Schnellboote S-38, its these;
S 26 to S 29, in service 1940
S 38 to S 53, in service 1940–1941
S 62 to S 99, in service 1941–1943
S 101 to S 123, in service 1940–1943
The Minensuchboot Typ 1940 has a number between M261 and M501.
As the Oberkommando der Kriegsmarine (OKM) delivered the two E-boat type Räumboot R23 of the Aldebaran-Klasse that I asked for, the flotilla is complete and they need a name as well. These would carry the numbers ex R 41 il R 129. While I would like to add some Kriegsfischkutter, I can't really justify the prices at Skytrex, but I have my eye on the ICM kits who are 1:350 but half the price and even cover a water-line option.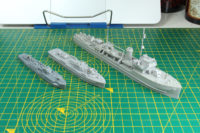 1 Minensuchboot (regular crews) 275 Pts (M287)
2 R23 Räumboote (regular crew) 350 Pts (R84 and R86)
6 Schnellboote S-38 (regular crew) 930 Pts (S73, 78, 94, 112, 117, 119)
3 Schnellboote S-100 (regular crew) 525 Pts (S171, S178, S306)
3 Schnellboote S-100 (veteran crew) 600 Pts (S189, S211, S217)
Makes a total of 15 vessels and a total of 2.680 Pts. A bit much for the regular battle, but plenty to draw from for all kind of skirmishes and campaigns incl. sideboard. Beyond that I have some aircrafts and a submarine, the later one will need some conversion to fit the water-line.
As for the paint job, Warlord Games has some painting instructions their website. I grabbed some Army Painter and Vallejo Colours, a blue-ish grey should be a good starting point. Warlord suggests from their pre-packed paint list these:
Vallejo Sky Grey - hulls and superstructures
Vallejo Medium Sea Grey - hulls and superstructures
Vallejo London Grey - decks and gun shields
Army Painter Plate Mail - torpedoes
Vallejo Andres Blue - camo patterns
Army Painter Gun Metal - guns
Vallejo Off White - lifeboats
Army Painter Field Grey - crew helmets
Vallejo Yellow Ochre - crew lifejackets and life rafts
And I have to check, which ones of these I already own.
Enjoy this article?