While I'm currently reading the Close Quarters supplement for Cruel Seas, I return to the aircrafts that I have around for air support on the channel.
Quite a while back I bought a few of the larger Trumpeter packs, as I thought an air combat game in topgun style would be fun, maybe to defend an aircraft carrier. From that idea I still have the F4F-4 Wildcat here, the other kits (Douglas TBD and SBD) I traded with the Sweetwater travelling box, as only the Grumman were used by the British under the designation Martlet / Wildcat Mk. IV. As it would be unfair to just give the Royal Navy some support from above, I got something for the Kriegsmarine as well.
I've added the Fairmile D to my Royal Navy, so I needed a medium sized counter part for my Kriegsmarine. Something the R-Boat could take care of.
Similar how E-Boat was an allied term for Enemy Boats, R-Boat is a term for Räumboote (meaning minesweeper). These R-Boats were build already before the second world war, and saw service post-war for clearing naval mines.
Last week I had beginning with sunday the chance to play a couple of matches of Cruel Seas.
After the decision fell towards the Flower Class Corvette as the large ship of the Royal Navy fleet, I was looking for a fitting counterpart for the German Kriegsmarine. My choice went towards the German M-Class Minesweeper.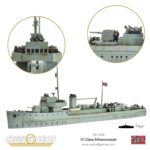 The Minesweeper was in competition with the Marinefährprahm (basically a landing ship) and the Vorpostenboot. The landing ship would be something to keep in mind, if I wanted to extend the Operation Sealion / Gigant towards Cruel Seas. The Vorpostenboot is an armed civil ship, similar to the armed trawler of the British and looked a bit to improvised to counter the proud British Corvette. So the decision was clear, it must be the Minesweeper, Minensuchboot M1940.
With Cruel Seas Warlord Games expands the world war 2 brand of Bolt Action, after Blood Red Skies and areal combat, into naval wargaming. We will look into the Strike Fast, Strike Hard! starter set for Cruel Seas today, that gets you started with the 1:300 scale naval combat game.
The Strike Fast, Strike Hard! boxed set is one of two ways to get into Cruel Seas. You can either buy the 50 GBP boxed set, or go for the stand alone rulebook at 20 GBP. Similar to what we know from the Bolt Action range, you receive a special miniature when you order either the boxed set or rulebook directly from Warlord Games. In this case, a very fitting "Das Boot" miniature, the top part of the iconic U96, the german Type VII C submarine.