The Bolt Action supplement Duel in the Sun covers one of the most well known campaigns of the second world war, the African and Italian Campaigns. And we want to share it with you in this review.
The first campaign supplement in the new edition is Battle of the Bulge, the battles in the last winter of world war two.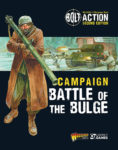 Along with Duel in the Sun this is the thickest campaign supplement for Bolt Action at 124 pages. It covers a specific campaign instead of an area, therefore the scenarios etc. are pretty much following each other. The book covers 12 scenarios, an army list for the free french and special rules for the fierce winter situation in western europe. Pricing is set at 19,99 GBP or 30 USD, which translates around 25 EUR.