In one of Vince Venturella's many videos on YouTube, he once said that, no matter if you're in the midst of an army project, you should always try out new and different things while painting. Since I was in the mood to do so anyway and this approach offered itself to a Dead Man's Hand gang, I took his advice to heart and experimented a bit with the colors of the skin and the jacket.
The skin of el Toro has a slightly darker nuance than, for example, McMiller's sons Eugene and Seamus. The jacket was a rather unusual experiment. I searched Google for pictures of mariachis, western jackets, and the poncho that Clint Eastwood wears in "A Fistful of Dollars". In the result the jacket received embellishments on the sleeves in the form of yellow stripes and a stylized bull's head on the back, inspired by the Dead Man's Hand logo.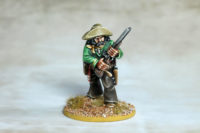 I also painted the sash around his waist in a rather unconventional way, brghtening the red up with Dwarf Flesh, giving it a milder, pastel tone. Since in my mind a sash is never just plain, I decided to paint a few stripes on it too, which eased the tense look of the miniature a bit.