As i want to try out 15mm Sci-Fi, I am looking for fitting miniatures. As I am more or less settled on the ARC Troopers as Infantry from Critical Mass Games.
The range to choose from isn't that large and i was thinking about using these Cruisers from Firestorm Armada as Medium or Light Tanks.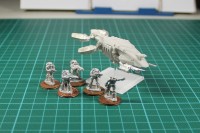 The Heavy ARC Troopers are rather large miniatures, almost 20mm, i have to get some of the regular and light troopers at this Weekend Crisis. You may think that the spaceship is a little bit small, therefore a scale comparison to other 15mm vehicles.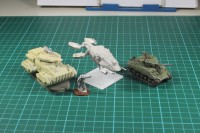 On the Left an Medium ARC Tank and on the right a Plastic Soldier Sherman, both 15mm Scale. What do you think? I like the real sci-fi look, but I am still searching for additional matching vehicles, as APC etc. Any recommandations?
Enjoy this article?