Its been a busy weekend. Doing some chores in the flat and taking some time to clean up and organize the new home. And of course, spending some of that time in my beloved home office for miniature goodness.
But before we come to the serious stuff (as far as miniature wargaming can be serious), some childish things first. I stumbled upon some smaller LEGO Star Wars planet kits (they come with an planet, a minifig and a vehicle / space ship) in Belgium in a toy store and was struggling with my self to buy me an X-Wing. The price of 13 Euro kept me from buying one. But earlier this week I was shopping at LIDL and they had the same kits for a special price of 8 Euro. Well, long story short, here we go ... an AT-ST Walker incl. Pilot and Endor as well as the already mentioned X-Wing Starfighter incl. Pilot and Yavin 4.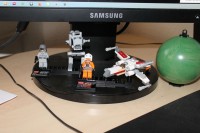 They were great fun to build and i´m thinking about getting more, as i am a big fan of LEGO and Star Wars and this combination is plane awesome. But the price is rather ... well i rearranged the cash flow the to the new X-Wing Miniatures Game, but more on that later next week.
At the start of the weekend i did, what i do best, putting miniatures on base.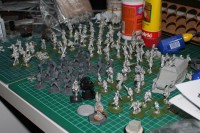 The "clearance" sale went quite well, brought some money for the crisis and more important space! During the cleaning and reorganizing i was happy to have my new worktop as working space.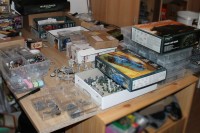 I used the chance to consolidate some half full / half empty boxes, clean some sprues of their bits and gain some space. The result was a big pile of cardboard boxes and empty sprues.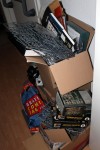 More space means more space for miniatures. So i had the chance to unpack some of the miniatures stored in inlays and boxes, to get an overview on the current status. First up a big shelf of Dystopian Wars Prussians (waiting for Legions reinforcement) and a whole shelf full of I-Munda.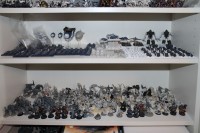 Above them are 3 shelfs filled with an random assortment across my collection, covering the big ones as well as some smaller projects and systems, with a detailled tagging in the 2nd picture.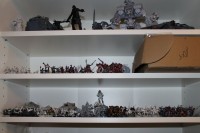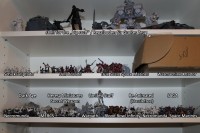 But lets get back to organizing. I love these storage boxes with dividers, they are unisized and i restocked some from a company called stanley. Repacking miniatures from blisters and boxes into these saves huge amounts of space.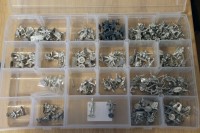 And so the story line moves back to bolt action. After the huge cleaning action, the worktop was free again and i started lining up the miniatures for some upcoming basing.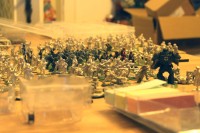 That's it for now. There will be another update during the week, keep an eye out for the latest Reviews i've written. Next weekend i'm off to Antwerpen for the Crisis, perhaps we will see eachother there.
Enjoy this article?