I actually thought the topic snow was over, but here we are, its Good Friday and over night it was again snowing. So close to the rhine, snow is a minor problem, but i can assume that in the areas around like the Eifel or Westerwald its rather frosty.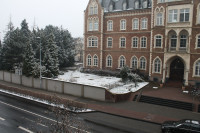 My prolonged weekend began on wednesday evening. I was shopping with my girlfriend and her nephew and i stumbled upon the following at Ernstings Family. Some Dickie Vehicles were discounted.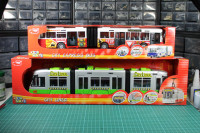 A short look at them, i estimated the scale and they should fit. And hey, at 8 euros for the bus and 13 for the train, why shouldn't i give it a try - a tank would cost at least 25 euros upwards.
And for you guys a few scale pictures with 28/32mm miniatures.
A nice feature are the doors which can be opened and closed. Nice.
Since yesterday morning i´m working on my review queue. A little teaser on whats waiting for you in the next weeks on here.
Enjoy this article?