The weekend is close and the third quartal '13 started. Unfortunately no new color, but a few novelties and some finally built inherid burdens.
I ordered some Artizan Design some figurines via Miniaturicum. Nice additions for Legends of the Old West and Bolt Action. Along with some Gladiators from Crusader Miniatures, those aren't that great. Casting is okay, but the sculpting is average at best.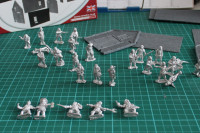 As we are talking about Bolt Action, the german community is online, www.bolt-action.de.
Some Reinforcement for my Westerners in Hell Dorado. The casting quality is great, even after the change from Asmodee to Cipher. Had the time to base them the same way, as i did the rest of the gang.
At Hasslefree i bought one of the strongly limited (only 150 units) Axenarf Ogres, as well as some of their latest releases. Gwen and Mongrel. Kev White sculps amazing miniatures and is clearly part of the sculpters elite!
And then there are 3 miniatures for Infinity. In the middle is the Komodo Suit from Antenocitis Workshop. Nice kit but way to expensive with 16 GBP. Along with him are two other new releases, one is the Spec Ops and Kirpal Sing. I did a headswap on the last one, so he fits the rest of the gang. The back back was just pain in the ass to build. Corvus Belli, seriously stop that!
Jeff from JTFM / Die Waffenkammer sold some miscasts via Facebook for only 10 CAD without pictures. I used the chance and ordered 3 tanks, a King Tiger, a Panzer IV and a Sherman. What he declares as miscasts, others would be happy to call their regular products quality. The miscasts are really minor errors and could be easily be fixed.
The sherman has only smaller holes in the turret and looks like he took a hit in the rear, the King Tiger misses some smaller parts like the MG and parts of the track guards, the Panzer IV is missing a small peace of the tracks. They will make some great looking wrecks on the battlefield.
The final preparations for Warlord Games Day 2013 are in the works and i am really, really looking forward to those days in Nottingham. I'll keep you posted.
Enjoy this article?