Das Wochenende ist nah und das 3. Quartal 2013 hat begonnen. Leider keine neue Farbe, aber ein paar Neuheiten und gebaute Altlasten.
Zum einen habe ich bei Miniaturicum ein paar Artizan Design Modelle (für Legends of the Old West und Bolt Action) bestellt, sowie eine Handvoll Crusader Gladiatoren. Von letzteren bin ich allerdings nicht so begeistert.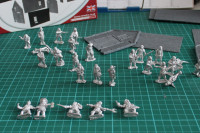 Apropo Bolt Action, die deutsche Community ist online, www.bolt-action.de.
Nachschub für die Hell Dorado Westerner. Die Gussqualität ist auch nach dem Wechsel von Asmodee an Cipher Studios absolut schick. Die sind auch mittlerweile gebased um zum Rest der Bande zu passen.
Bei Hasslefree habe ich mir die auf 150 (!) limitierte Miniatur von Axenarf geholt, sowie ein paar der Neuheiten, Gwen und Mongrel. Kevin White modelliert einfach ungemein schicke Modelle und gehört ganz klar zur Elite.
Dann sind da noch 3 Modelle für Infinity. Hier zum einen in der Mitte von Antenocitis Workshop der Komodo Suit. Nettes Modell, passt auch gut zu Infinity, aber mit 16 GBP einfach zu teuer. Dazu noch zwei Neuheiten, ein Spec Ops und Kirpal Singh, Akalis Major Sergeant. Bei letzterem habe ich den Kopf durch den zweiten Kopf des Spec Ops ausgetauscht, da er so besser ins Schema meiner Truppe passt. Das Rückenmodul war einfach nur der Hass zu kleben. Corvus Belli, lasst das!
Die Waffenkammer haben für 10 CAD pro Modell Fehlgüsse über Facebook verkauft - ohne Bilder. Ich habe mir bei Jeff 3 Panzer, einen Königstiger, einen Panzer IV und einen Sherman besorgt. Was er als Fehlgüsse betitelt, würde bei anderen als Produktionsqualität das Lager verlassen. Einfach beeindruckend was die Qualität angeht, die Fehler sind wirklich minimal. Beim Sherman sind kleinere Löcher am Turm und die Unterseite leicht defomiert, der Königstiger vermisst sein Front MG und ein Teil der Kettenabdeckung, dem Panzer IV fehlt ein Stück der Kette. Das werden ein paar schicke Wracks auf dem Spielfeld.
Die Vorbereitungen für den Warlord Games Day 2013 laufen und ich freue mich wie ein Schnitzel auf die Tage in Nottingham. Werde natürlich Bilder machen. 🙂
hat dir dieser Artikel gefallen?