The last update in 2013. A last peak at the workbench. This won't be finished today, as we are preparing the evening programme. So what are we looking at in detail? A few Kickstarter Freebooter Miniatures are assembled, as you can see in the right picture. Further more there are the Anglo-Saxons for SAGA and a couple of kits for my Bolt Action motorpool.
And i want to thank everyone of my friends and colleagues (especially for the christmas cards!), and of course my dear readers, that visited this very blog 20.000 times this year! Hooray!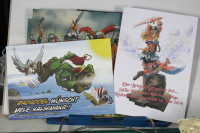 I just stumpled upon the latest infinity news. Wow, very impressive miniatures again! But enough miniature talk for today and this year. The earlier mentioned evening programme wants to be prepared together with the Misses. The menue for today is "Ratte" (which translates into "rats" in german) and some liquid delights from Bavaria. Happy New Year everone!
Enjoy this article?