Welcome to the new year and a rather bold start with some painted miniatures. Let's start with some terrain, i did first colors on the lovely Renedra Shed. It's amazing to see how good drybrushing works on these kits. That is just black primer with 3 different drybrushs (different colors for the roof and planks).
As we are speaking of drybrushing. Same goes with the tanks. I just primed these Bolt Action tank kits with green Olive Drab from the Vallejo Range and just a little bit of drybrushing with P3 Khaki already makes the details pop so much and enhances their appearance. Solid base for added details and washing. Yay!
I wasn't to keen with the current status on the Panzer IV and StuG III so i gave them a light coat of the new Army Painter Bolt Action Spray "Dunkelgelb". Have so say, it is to "sand" colored for me, the Vallejo Dunkelgelb works better and has a better fit. But i like the easy handling and density of the color, so i´ll use it on the Afrika Korps and Desert Rats.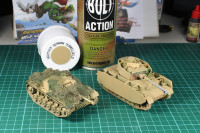 Some resin kits, like from the Waffenkammer, need a special primer. I gave the one from Belton Hit Color a try, as i am very satisfied with the black and grey primers. Unfortunately that one really isn't a good choice for model kits as you can see from the uneven coat and strange drying. I will stay with the presto plastic primer which costs roughly 10-12 Euro per can.
For quite some time i have the idea of some non-airbrush camo patterns in my head and gave them with the Hetzer a try. It's "stippling" with a brush, close to how i do rust but on a larger surface and with bigger brushs. It is still Paint in Progress, but i like the current status. I mixed some earthy colors on the tank and gave it a wash of Army Painters Quickshade Strong Tone afterwards. Now it's waiting for some clean up, additional details and a light drybrush with khaki / beige.
Let me know what you think and welcome to the Chaosbunker in 2014.
Enjoy this article?