As promised, the next update! I will show you some pictures of an upcoming article about SAGA. In this case my own warband of Anglo Saxons. Consisting of Musketeer Miniatures (pewter) and Gripping Beasts (plastics).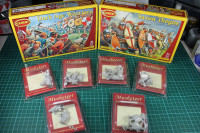 After unboxing you are left with a big pile of plastic sprues and some handsome pewter miniatures. I grabbed my big box of renedra bases, and picked some 25 and 40mm round bases. On the right picture you see the soon to be warlord, along with 3 points of hearthguard.
Musketeer Miniatures has some incredible good looking miniatures, so i got myself quite a few, along with some characters to beef up the warband. I guess i will use Hengist and Horsa as Proxy Legends from the Northern Fury Expansion. Perhaps add some more miniatures like a priest or flag bearer to one of the larger bases, to make it more impressive.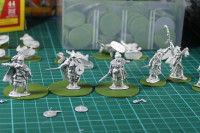 And i stayed with the freebooter miniatures i started yesterday and grabbed my two kickstarter boxes. I am going to build both sets, one regular and one with the additional extras from the kickstarter. But first you have to get the bases done. Tada!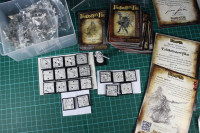 So what else is going on? Well, it's still Steam Sale, so i got myself the "You don't know Jack" Bundle and Max Payne 3 (both for under 5 Bucks, c'mon...). Really looking forward to the next sales update in a few minutes. Oh and WoT 0.8.10 was released today. Some nice little tweaks. Unfortunately still a lot of grinding to do until the Leopard 1.
Next update? Possibly tomorrow but at least on friday!
Enjoy this article?