A while ago, i found an article online how somebody converted a Walking Dead piggybank into a bust. I remembered, i saw one of those at our local comicbook store, so i head over and checked the price. Below 20 bucks, fine with me!
I started taping the base, so the logo wouldn't be damaged while painting and closed the coin slot in the back with grey stuff. And i fixed some of the joints and minor assembling gaps with grey stuff and vallejo putty.
After that the bust got a solid black base colour, using Hit Color Belton matt black, and gave it a good highlight with Army Painters matt white primer.
As i didn't just wanted to start paiting, i played a bit with a colourscheme in photoshop. Greenish skin? Brown-yellow or grey? (well the grey in the last picture looks a bit harsh). What do you think?
And for reference this is the collectors variant, fully painted, that you can buy.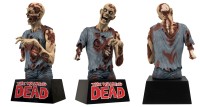 The casting and details of this piggybank are quite solid and for less than 20 bucks you get a good model to start from. I never painted a bust or large scaled miniature that size before, so it is something new for me. But i guessed as a first project, this is way more forgiving than using one of those fine busts, that i saw at last weeks Scale Model Challenge.
Well, i hope you liked my idea and maybe a few of you are now heading for the toy store, looking for something that needs a repaint. If you liked the article, leave a comment, let me know what you think, what color i should go for and / or give me a like on Facebook.
Enjoy this article?