It took a bit to arrive, due to their vacation there was a bit of a delay. But the wait was worth it.
They had a Halloween sale (20% off, so i saved more or less the VAT on the miniatures). I posted the order on 15th october, they shipped it on 3rd November and it arrived on the 10th. For the delay they added a nice goodie bag to the order.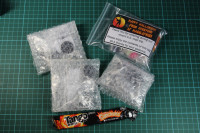 I used the 20% off to buy a couple of miniatures, i've been waiting for a long time. The goodie bag itself is worth a solid 15+ GBP, excluding the candy.
Kev White does an incredible range of pop-cultural references, so i added a few things like Archer and Lana, a female Inquistor matching the grim dark, the Survivors from Left 4 Dead and a few others. Nice sculpts, proper casting and reasonable prices.
If you search for hasslefree on this blog, you'll find a lot of their miniatures. A quick taste;
Hasslefree does regular sales from time to time, so it is worth giving them a like on Facebook or subscribe their Newsletter to be notified.
Enjoy this article?