Some of you may noticed the pinterest widget in the lower right corner of the blog. I started using pinterest to collect websites and images to different topics, and i thought it would be a nice addition to a blog roll, to gather and collect wargaming relevant content. I am not quite finished with the integration of pinterest, as the currently available widgets are not 100% capable of what i have in mind. But enough of that, i want to start of with 3 recommendations from my pinterest board.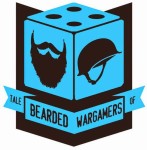 A Tale of Bearded Wargamers is a british wargamer blog, that covers a few Warlord Games projects. The burmese army was it, that cought my attention the first time, and the other added armies, like the recently added Algoryn army made it clear, that i want to share this one with you.


While researching for Spanish Civil War i found the blog of Analogue Hobbies. Beside painted miniatures, they have a lot of old pictures from the civil war and information on the troops, commanders and used gear. The blog is not only about 28mm, but other scales as well and other genres. You'll find Dystopian Wars, dark age vikings, Lord of the Rings among others on there as well. Recently his focus moved to the napoleonic wars.

The No Duff Gamers were a facebook find in one of the wargamers groups. I really love the idea of modern Bolt Action, and they show it in this gaming report between Taliban and Australians. The blog from down under does a lot of terrain building, so you'll find some lovely tables for Bolt Action (D-Day and french villages) and the modern variant.
I hope you enjoyed the first three introductions from my pinterest. I am aware, these project are niché and not the usual 9 out of 10 CMON Rating thing you see on other pages, but that's what i was looking for. To show something you would otherwise miss, to start a rolling stone or to light a spark for a new project.
Feel free to share some of the interesting projects and blogs you've found online, come by again soon and leave a comment or give me a like on Facebook if you like this blog!
Enjoy this article?