I found this one back at Spiel last year at Micro Art Studios booth. Saw it and thought, that is a must have for a gaming table, and at 16-18 Euro it is reasonably priced.
It is made in resin and safely packed in styrofoam chips. Inside you'll find 5 pieces (two of which are the same), but you barely notice the double in the set. And they fit in great with 28mm, and can be used for anything from World War's up to Sci-Fi.
Spartan Games did a 40mm game in a ancient setting, around the myths of old greece. I got the set of 3 skeletons with rags and different weapons for Frostgrave as large(r) roaming monsters.
As you see, they make a good ogre sized addition to the world of frostgrave. Put on a 40mm round base, they'll be a good fit.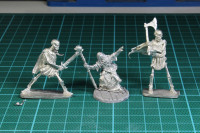 And i found this one at a local store, a 1:52 scale Snowspeeder. At just 7 bucks, i gave it a try and will cover this one in a seperate article.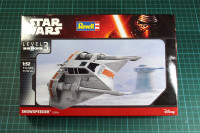 That's it for today. Had a small painting get together with Florian again, for further progress on his Mars Attacks. I'll cover this in a seperate post.
How did you guys arrive in 2016? Hope you had a great start! What are you excited about this year?
Enjoy this article?