Following the miniature games review, this is an unboxing and review of the scenery booster, that looks very promising and versatile.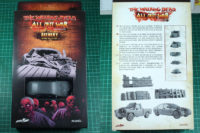 The scenery booster is an upgrade for the board game, that replaces some of card board tokens from the starter set with 3D hard plastic models. Again a vacuum formed tray that carries the goods. For 20 GBP / 25 EUR you receive 4 car wrecks (2 x 2 types), 6 barricades (3 different designs) and 10 supply markers (5 different designs).
These loot / supply counters have 4 small and 6 medium sized tokens. The barricades are nicely done, with a lot of generic rubble, piled together.
The main argument for this set are the cars, you get 2 sedans and 2 pick up trucks. They are a bit smaller than the Mars Attack Range. The pick up is a logic part of this, as The Walking Dead plays in the United States, but why they went with the design of the W221 Mercedes S-Class for the sedan - I have no idea. I guessed they would use something like the Ford Crown Victoria, as those were used as police cars and taxis as well. Never the less, both designs are well done. And interesting part of the car design is, that they are hollow hulls, a fact I didn't notice in the kickstarter updates nor product images.
A scale comparison is mandatory. The cars work well with many modern 28mm ranges, like Studio Miniatures, Hasslefree or Spectre Miniatures. In the second image you see them next to 1:43 die cast cars. They work quite well with them, but you see that the scenery booster is around 1:50/1:56 scaled, as the S-class and Pick up would easily be longer than the 5 and 3 series BMW.
The barricades work great for modern conflicts and can be used with the most miniatures in 28 - 32mm scale. A marginal note, the plastic counters don't match in size with the card board tokens they replace.
Conclusion
The scenery booster is an interesting product, and by far not only for the players of The Walking Dead. If you have any modern setting in your gaming rotation, this is a set, that you should take a look at and get your hands on - at least once, if not twice. With the couple of Zombie systems available, and modern conflict rule sets like Ospreys Black Ops, Ambush Alley Games' Force on Force, or Spectre Miniatures Spectre Operations, there is plenty of usage and need for such terrain.
The pricing of 20 GBP / 25 Euro is fair, you might get your hands on the vehicle cheaper (rougly 3-5 Euro each at the Toy Store), but the barricades and supply counter, usually available in resin or pewter will set you back at least 15-20 Euro. So the booster is set at reasonable and attractive price range.
Link: Mantic Games
Enjoy this article?