Merry Christmas! Frohe Weihnacht! Feliz Navidad!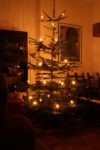 The last door of the advent calendar, after a lot of reviews and commentary articles, I want to share some of the miniatures and vehicles that I painted this year.
With my passion for Bolt Action, I took care on some captured vehicles, like this KV-2 / PzKpfw 754(r), a resin kit by Warlord Games.
But you can't stand properly on one leg, so the KV-1 / PzKpfw 753(r) was added as well. Another resin kit, by Warlord Games as well. I like some of the russian tanks, but have no need for a soviet army, so using them as captured vehicles is a good solution for me. Beside that, I liked painting the winter tank camo.
With the winter tanks set and my gusto for rarities / field conversions etc., I saw the need for a Panther M10 Ersatzfahrzeug. I added some plastic parts from the Rubicon Panther kit to the Panther M10 resin kit by Warlord Games. This one will be used in my Operation Greif Winterarmy, and I'm really looking forward to the Bolt Action supplement for the Battle of the Bulge.
Another captured vehicle for this Operation Greif army is this Rubicon M8 Greyhound, that will be used as recon vehicle with the rules of the Puma. Not yet done, but on a good way. The third vehicle will be a converted Rubicon StuG, companied with a lot of great coated infantry.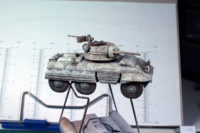 I have prepared a test miniature from each of the SAGA projects introduced this month, along with a Meinolf primed in cenital light. So this will be a task for the next days.

I'll take a short break and will be back on New Year. I have a few things prepared for the next days, a bit of kit building and painting, enjoying food and drinks and watching the Hobbit Extended Trilogy.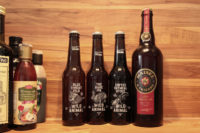 Make the most of the holidays, spend the time with your family and friends. I wish you and your family happy holidays! Stay safe, eat well and enjoy the time off.
If you have questions, suggestions, have an idea for a cooperation or would like to see a specific / your product in a review, feel free to drop me an e-mail to dennis@chaosbunker.de.
Enjoy this article?