I hope everyone enjoyed the last few days, had the chance to slow down a little and maybe even had a bit of time to spare on the our beloved hobby. In my case - you remember the test miniatures from the 24th? - I did a bit of progress on the SAGA warbands last thursday.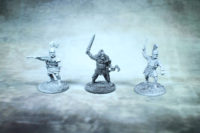 Before starting the entire warbands, I wanted to get a feel for the colours and if it goes into the direction, that I was looking for. As I want them to be clearly different from another, I choose three different skin tones to beginn with. AP Barbarian Flesh for the Germans, AP Tanned Flesh for the Romans and Vallejo GC Bronze Fleshtone for the Iberians. Bases were painted with P3 Battlefield Brown, which is a great, dark colour to begin with to be drybrushed into lighter tones, without ending up to bright. As with the tunics and cloth, I choose three different beige / white tones by P3, Pegasus and Vallejo GC. The metal parts of all miniatures will be prepared, old school, with a black colour, to make the metallic paints "pop" more. I took a break after that step, to decide which bronce / copper tones, I'll go with.
A good friend of mine, Florian, who started recently with wargaming (after enjoying Mars Attacks and The Walking Dead), picked up his Perry Miniatures Army of the War of the Roses, that I got him. 5 Boxes, ~120 Infantry and 24 Cavalry, that is a lot of sprues to clean.
Such wargamery can not be done on an empty stomach, so we prepared a bit of proper food. Proper, home made burgers. We got 600g (~ 21oz) of minced beef from a local butcher and potato bread rolls for burger buns (those are solid enough to handle the patties, sauce and other toppings without breaking apart). It is important to season the meat, a bit of pepper and salt, a bit of soy sauce and just a hint of cinnamon (yes, it works great with meat - believe me).
A single patty of ~150g (5oz), a bit of bacon, an ananas slize and some mature english cheddar (some may call it the MILF-cheese...). You can top that off, with some barbeque sauce or fruity chili sauce, but I decided to leave it as it is and not to cover the taste of the meat and toppings with sauce.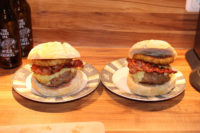 Later on we went for a second serving. This time with a different style burger, potato bread rolls again, but the dark ones. Same seasoned beef patties as above, 5oz each. As for the toppings, apple slices and camembert with cranberries. The camembert was prepared first, as it tooks the longest.
The apple slices were dipped with honey to caramelize, and the cranberries heated up on top of the meat. No need for sauce in these as well.
As hunger was taken care of, there was only the thirst to be dealed with. That was done with some craftbeer by Wild Animal Brewery, the Wild Hare IPA and Blue Throat Pils. Both are well done, but for my taste to bitter, I prefer more malty beers. The stout is still to be tasted.
Currently I'm searching for the proper bits for a larger vehicle conversion, based upon the ork battle waggon for Necromunda. But I am getting there.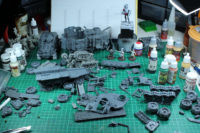 And now we jump to today. I'm currently working on some Bolt Action reviews, among them a StuG by Rubicon Models and a Pershing. Both will be converted, the Ersatz StuG can be seen below and will be a good addition to my Wintergermans and the upcoming Battle of the Bulge campaign supplement for Bolt Action. Entertainment was provided with the second part of the second season of Fear the Walking Dead and I just started watching Designated Survivor, both on Amazon Prime.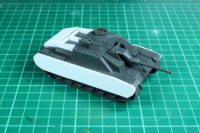 With New Years Eve around the corner, I'm preparing our meal for the evening. I'm about to cook a lamb tikka masala, for which I got myself the proper spices at Pfeffersack & Söhne, along with some New Zealand salt, curcuma and garlic. The masala spices were roasted in a pan, and then added to the mortar with the other spices. A container with 250 ml (8,5 liquid oz / ~ 1 cup) of butter milk was prepared, the spiced mixed into and the sliced lamb meat added for marinating.
The prepared meat will now stay for 36 hrs in the fridge, and I'll turn over to phase 2 of my short holiday and begin with the extended hobbit trilogy shortly. I'll be back on the new years weekend with a summary of the year and a preview of what's coming in 2017! In the meantime, have a great remaining week and leave a comment or like.
Enjoy this article?