Currently continuing on the vehicles for my Winter germans. I started with the Kingtiger with Zimmerit, that will be covered in a review along with the regular Kingtiger, an IS-2 and the Road to Berlin Bolt Action supplement, just as a little teaser for the next weeks.
The Tiger II is accompanied by the Opel Maultier, SdKfz 251/1 Ausf. C and SdKfz 251/10 Ausf. D. I went with AMMO Dunkelgelb 010 by Mig after a black-white primer on the plastic kits. The paint is more suited for using with an airbrush, so I had bit of trouble to apply it by brush. But as this would receive an extensive white wash, getting an even coat wasn't that important. I thinned down Vallejo offwhite to a milky consistent and did a drybrush and stippling around the kit, to make sure and keep the Dunkelgelb visible in the recesses.
After that I went with thinned down Army Painter soft tone over the vehicle, doing the wheels with thinned down Army Painter dark tone, leaving out the tracks that will get a Vallejo smoke or Badab Black wash.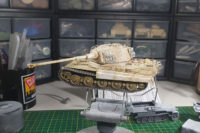 Then added a bit of German Grey stippling for the torn of paint, and started cleaning the edges of some of the washes as you can see in the third picture. I have to finalize the tools and spare tracks, along with black weathering around the exhausts and muzzle brake. Should get it done until next weekend (I hope 😀 ).
Currently doing some research on the SdKfz and Maultier for the appropiate paintjob, and will prime them most likely by airbrush.
A cool thing happened last week, the Rubicon Models Community made my Ersatz StuG their current group picture. Yay on that, I'm very happy and proud.
Enjoy this article?