In July I covered the Bolt Action Winter German kit by Warlord Games and the possibilities within the game / setting it self, using it for conversions.
As the Bolt Action plastic range is 28mm heroic scale, a bit overdrawn, it can be used as a base for all kinds of longcoat troops. A brief comparison of the bodies next to the ones of bodies from the Warhammer 40k Imperial Guard / Astra Militarum range.
So with that as a starting point, you just need a couple of matching bits, for example from the Cadian Shock Trooper and Cadian Command Squad.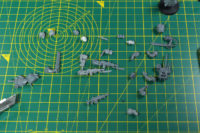 This wounded soldier was build using a regular Winter body, along with the wounded left arm and right arm carrying a helmet from the Command Squad, the head is from the Baneblade crew. Just a brief assembly using blutac to see if it fits. That's the reason I didn't remove the mould lines yet.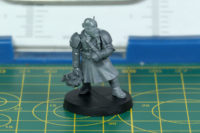 For regular soldiers you can use the laser gun arm pairs. You would just need to trim the shoulder straps to have a flat glueing surface for the arms. There are a couple of different companies offering heads for 28mm sci-fi soldiers, this one is by Pig Iron Production. You could browse the sortiments of Anvil Industries, Kromlech or MaxMini for example for other designs. If you add backpacks, the soldiers become much more impressive / lively.
I used Victoria Miniatures bits to convert some Imperial Guard troopers, they offer a lot of nice bits as well and you can build some interestingly themed Imperial Regiments.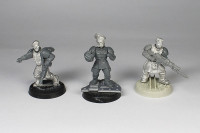 You could add the shouder pads of the cadian uniform to make them look more bulky. The helmet soldier has a bit of a Rogue Trader vibe to it, like the Imperial Forces from the late 80s / early 90s.
Another option instead of using the whole body would be just using the legs of the long coats. That way you have the flak armour more visible and the width of the shoulders fits the imperial arm pairs 100%.
And a group picture of the long coat Sci-Fi soldiers.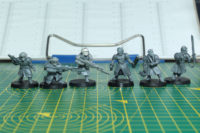 There are a couple of companies that offer conversion bits, usually made from resin or metal. And if you're going with a larger army project, that can be a bit of an investment. With this I used the Winter German kit that is 25 GBP for 30 Bodies, so you could strip all the bodies from the kit and trade in the remaining bits in your club (or keep them for conversions).
Enjoy this article?