Even though one of McMillers gang members still haven't been introduced, it's time to turn the attention to the antagonists. Finn will take over at this point and introduce his Banditos by himself and continue our common storyline in Dead Man' Hand.
After I had a long hobby break, Dino spured my interest again. I liked the idea to start a Skirmisher as a joint project and so I began to gather a posse in the Wild West. The models are all from Great Escape Games. So far I had painted only Space Marines and admittedly not very well. I chose to get back into painting by consuming numerous tutorials. For the color concept I wanted to keep the posse quite colorful, they should look like a mixed up bunch, which only had their Mexican roots in common. At the same time, they had a lot in common through the many typical Western leather applications.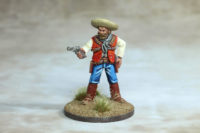 With the first model I painted the trousers first, which should become a jeans. The basic color was a dark blue from an old starter color set of Citadel, which I gradually brightened with Dead White from Vallejo to create shadows and accents by layering. I not only tried to achieve lighting effects, but also the typical jeans brightening through wear and tear.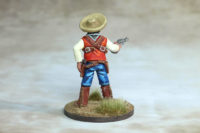 Afterwards I chose a red for the vest as a colour contrast. Cartridge belts and belts should become leather brown just like the boots. I oriented myself on the Citadel colour system and the painting suggestions from the Citadelapp, whereby I did not stick strictly to the colour selection. I also painted the skin after these suggestions.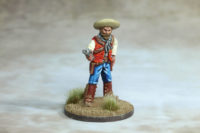 For the hair I wanted to try another technique from a speed painting tutorial. In this tutorial, the miniatures were painted on a white base coloured by washes only. Theoretically this saves a lot of layering and accentuation. With hair, however, the resulting irregularity in the color application simply seemed much more natural and I myself was surprised how easy it is to create this effect.
Hector Villa "El Segundo" and "the Cause"
For years he had worked hard for Mr. Tanner, had done legal and sometimes not quite so legal business for him and made sure that none of the other guys went out of line. He had always taken care of that with his revolvers. And what did he get out of it? Nothing! One evening Domingo Ortega made that clear to him. He hadn't earned enough to build something of his own and on the ranch he slept in the same shacks as the other workers. But that was about to change. Domingo had a plan, no, a vision for a bigger, better, more Mexican Dead Man's Hand.

Seizing the opportunity, he had made a good deal with this Miller boy. Tanner had ordered him to get a load of rifles for the upcoming cattle drive. And so he did. However, he would certainly not bring the rifles to this ungrateful cabron. They would be of better use for the Mexican cause. And Tanner wouldn't see those hundred Dollars again. Onehundred for the guns from Domingo and onehundre for his work. Fair... If only this idiota Eugene had delivered.

To all abundance old McMiller had sent his lackey el Toro. He would have to see how he could possibly convince him that the business was still going on without having to shoot anyone. El Toro was known for his quick right and fistfights never have been Hector's way. He would have to take Tuco, that simpleton, with him, old Tanner wanted that. Was he already suspecting anything? On the other hand, the escort was just right for him. Let someone else take the beating...
Greetings from the Chaosbunker
Finn
Enjoy this article?