Welcome to 2019 and we start the year off with some cooking! Originally I wanted to cover my brined roasted chicken that I made for Christmas, but I wasn't that satisfied with the result and may give it another try, before I share it.
As for New Year's Eve we had friends over, who have a toddler themselves. So the food for the evening was something among the idea of tapas, or dishes that could be eaten all over the evening, without getting mushy or overdone and so on. The night before New Year's Eve, I began with the Guacamole.
Quite an easy dish, you need 2 ripe avocados, 3 cloves of garlic, 2 small tomatoes. Crush the garlic and dice the tomato, mush the avocado with a fork and mix it all together. Add pepper and salt to taste. I used the Tupperware juicer we received on Christmas to add the juice of one lime and added a couple of spoons of plain yoghurt. Stir it with a spoon and let it steep for a day in a fridge. You can add the stone from the avocado, to avoid browning.
You can eat guacamole with a lot of different items, like crackers, on bread and of course with Mexican food.
The "main" dish is albondigas, Spanish meatballs in tomato sauce. The base for it are 800g of tomatoes (diced), 3 medium sized onions (I used 2 white and one red onion for a bit of spiciness), a couple of garlic, thyme, bay leaves and peppers (choose the ones you want for a hotness of your liking).
Dice everything finely, just the garlic a bit finer compared to the rest and let it glaze in a pre-heated large pot with olive oil. Add after two minutes the tomatoes, pepper and salt, a few bay leaves, depending on your taste a bit of sugar and a tablespoon of stock powder, and of course the peppers. I recommend using gloves when working with peppers, especially hot ones. During cooking, while washing your hands often, the skins is easier irritated and therefore more sensible to the heat of the peppers. I received the new black hipster food blogger gloves for christmas, so expect them to see in the future.
Let it simmer and thicken a bit on a low flame.
Next up the meat balls. There are a couple of different ways to make meat balls, these for example use an egg and bread crumbs for bonding. And as these are albondigas and not just meat balls, they have pine nuts and garlic in there as well. You could add chopped parsley if you want. I used one pound of ground beef, but you could use half-and-half beef and pork. 20g of pine nuts, one egg and 3-4 gloves of garlic. Mix it all to one dough and form small, wall nut sized balls out of the meat mix. You could cook the meat balls directly in the sauce, but for them to be a bit more stable, I recommend browning them from all sides and then add them to the sauce and let them simmer. On a low heat, you can keep them for a couple of hours.
I made some oven fried chicken, similar to my old recipe. I coated the chicken pieces that were marinated in buttermilk, with corn starch. Instead of using the egg yolks, I went with an egg white and water mixture. The coating were crushed tortilla chips like the last time. 5 minutes at 180° in the oven, flipped and back in for another 5 minutes. Then I melted some butter, added the juice of half a lime and some chili, and poured it over the nuggets that went back again into the oven for another 5 minutes. You could leave the last step for just before serving them.
And as another option, I filled some small peppers with cream cheese and wrapped them in bacon. Sprinkle a bit of oil over them and put them for about 10 minutes in the oven at 180°, the last 2 minutes with grill activated.
I missed the chance to take pictures of the finished table, but the empty plates speak for themselves. The tapas and finger food were a great choice, and could be eaten and snacked all over the evening. And worked well with our breaks to check upon our children. So a nice choice to accompany a gaming event or such as well.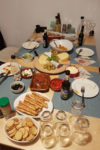 So, that's the kick-off for the 2019 articles! Now let's get back to gaming, starting tomorrow.
Enjoy this article?