While Dennis summarized 2018 in his annual review quite smoothly, I'll take a look into the glass orb for 2019 and do what a true hobbyist can do best: make plans and try to do everythin possible that they turn out differently! Accordingly my main point on the list of good intentions for the new year is to stick to my plan!
First of all, there is a warband for Age of Sigmar: Skirmish, of which I have already finished two models and where the progress on the rest is nearing completion.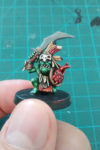 Afterwards I'll take on Dreadball for a while, as Mantic Games was so kind to provide us wit the second edition starter box, as well as two more new PVC teams. Hobbywise there will be more stuff in this department as well, because of course I want to have at least the teams of the starter box painted - and that from both editions, the first and the second.
We'll see if I'm going to keep this order, because I'd also like to continue painting up my Bolt Action army and complete a couple of models inspired by the videogame Commandos. Depending on how far I get, I plan to play a small campaign with Dennis.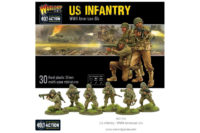 So much for a transition to my next intent. Last year I forced the boss a bit and made it my holy mission to make him paint more - so why not put it all on the table and play more as well? Right, there is no reason not to do so! Dennis also has started a couple of snazzy Halflings for Blood Bowl, whose faces are longing for the boots of my underworld team, the Skycastle Titans.
That's the last point on my list, if I even get that far: I'm very interested in continueing my long-term project, the Orc team of the Mork's Maulers. There will surely be a couple of articles on this topic.
But in the end, completing the projects may not be the goal, because which good hobbyist does not know that? You're just sitting at this WHAT IS THAT?!...that`s some nice new models ...
Greetings from the Chaosbunker and a successful year 2019!
Dino
Enjoy this article?