I watched the tv mini-series version of the original movie Das Boot from 1981 on amazon prime last year or the year before. It had enhanced audio and video quality, with 6 episodes covering 52 minutes each. In November and December 2018 a tv series sequel of the same name, was released as an 8-part. It plays 9 month after the original movie, and due to the nearly 40 years between both movies, of course with different actors. I had the chance to see the location and mock-up of the submarine in Munich, in the Bavaria Filmstudio. It was quite impressive to see and transported the claustrophobic atmosphere of the submarine quite well.
The sequel is based on Lothar-Günther Buchheim's 1973 book Das Boot, but with additions from Buchheim's 1995 follow up sequel Die Festung, and split into two narratives, one based on land in La Rochelle and another one around the submarine, the U-612. I used the time between the holidays to watch the series. The cast has some interesting and familiar names. The most well-known is certainly Tom Wlaschiha, mostly known for his role in HBO's Game of Thrones as Jaqen H'Gar. He plays a GESTAPO Kriminalrat Hagen Forster. Another actor, that might have a familiar face for viewers outside of Germany, is Rainer Bock, who stars as Fregattenkapitän Gluck. Bock could be seen as the leading engineer in the latest season of AMC's Better Call Saul, but in Homeland, SS-GB and Inglorious Basterds as well. Known among other film work, for his 5 years as a detective on the Dortmund Tatort, Stefan Konarske stars as Korvettenkapitän Wrangel.
But about the series. It is well produced, but lacks a certain grip. It is too smooth and some characters just do not evolve. And beyond that, the roles are not convincing. It is late war, you have high ranking officers in france and it feels like they are in summer camp. The original was an anti-war movie, it showed the difficult terms on the ship. But with the sequel, the situation where moral is questioned are forced. And many parts of the story feel displaced and washed to fit 2018s markets. You have kind of an love triangle, that is just to constructed and the whole resistance part takes up to much time of the series, that could be used to focus on developing the stories on the submarine. The movie is so clean and far from any the reich structure, that if it wasn't for the occasional Kriegsmarine flag, you could forget that it plays during World War 2 (No "Heil Hitler", the GESTAPO officer Forster is way more interested in planning his post war vacation home, than actual investigating the local uprising and so on). On top of that, this is a German production and it seems as if they filmed the scenes with the foreign actors in english and had the german actors dub themself after that. That comes across so strange and unnatural. Especially in some scenes, where they need translators. You have officers speaking 3+ languages in movies like Casablanca, Allied or Inglorious Basterds, and then they have officers in stationed in France, that can not speak french or otherwise, collaborateurs who can't speak German? Well, enough people seemed to enjoy the show, as the second season was already ordered.
But enough for the cinematic intro. We all know how it is, you something like that and you're thinking on how to fit that one into wargaming. I have some naval troops of world war II. In 28mm there is the Kriegsmarine by Warlord Games, the Paul Hicks sculpted U-Boat Crew by Empress and the interwar Red Sailors by Tsuba Miniatures (Hicks sculpts as well).
There are Grey  Wolves by Artizan Design, two codes (Grey Wolves I and Grey Wolves II) in their Pulp WW2 range, and a Ship / U-Boat Crew by Brigade Games. There are even two 28mm submarines, one resin and metal kits by Empress, and another MDF kit by Blotz.
A couple of days ago I was made aware that the U-BOOT boardgame by Phalanx (it was crowdfunded on Kickstarter) will be available shortly, even with translations. Found it on Instagram. I'll try to take a look on the german copy by Pegasus Spiele, as it looks well made.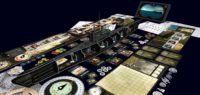 So far the only naval wargames I came across were battleship (D'oh) and Ospreys "They come unseen", that I have seen at Spiel 2015.
As for on board wargames, I assume that Black Ops would work quite well for some boarding action or fights on naval vessels, a pretty impressive example of a matching table I found over here - TerrainBuilder. He prepared it for Tactica 2017. TT Combat has a pretty decent MDF kit of a cargo ship in their range, others use Playmobil kits and convert them. Depending if you need 3D terrain or just the floor plans, you can get some role play supplements, that will cover that for a cheap buck or might even find some for free online.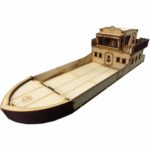 As for actual naval combat, 28mm is too large, but I have my eye on Cruel Seas and will cover that in the near future, as soon as the starter set arrives at the 'bunker.
Enjoy this article?