Fitting with Easter - When there's no more room in hell, the dead will walk the earth - I present to you Tyrannosaurus Zombie!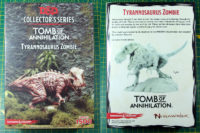 I was made aware of this great model by the post of Jeremy Spurlock in the Paint all the Minis facebook group. He did an amazing job on this kit.
This model is produced by Gale Force 9, who did / do cover accessoires and terrain for tabletop wargaming, but since they belong to Battlefront (the company that makes Flames of War), their range got broader by a lot. They do board games nowadays, with different IPs, have a magnificient battlefield in a box range and cover a series of Dungeons & Dragons collector series miniatures. And for this Collector's Series, this Tyrannosaurus Zombie was made, taken from the Tomb of Annihilation and sculpted for both the Neverwinter video game and the Gale Force 9 miniature by Jonathan Nascone by Cryptic Studios.
This is a resin kit, properly packed in bubble wrap. A bit irritating is the big note on the back, this kit contains 5 pieces of resin. I already have 6 bags with parts in front of me. Even if I don't count the base, I have a upper and lower half of the body, the jaw, left and right leg, left and right arm. A bit more than 5, but hey, more's better than less.
To give you an idea of the sheer size of this beast, here it is next to the "old" Carnosaur. And just a check, as the model would make a great mount, for example for a necromancer or vampire lord. It is possible, you would just have to close the small gap between the saddle and neck.
Casting is good, no air bubbles or flash. There will be the need of green stuff for the gaps, as the kit has some small lines to fill. At a price of 40 USD/EUR, it is pretty reasonable and fair, as this is quite a huge model. And what do you do with this model? Well, it is a Zombie Tyrannosaurus, so it could be used with some flexibility in the Walking Dead or some other Zombie games as the surprise super Endboss. It will be great for Frostgrave (Ghost Archipelago) - maybe he is found by the Conquerors of Mictlan, it could work with Konflikt '47 (I hope you have seen the Iron Sky 2 trailer / movie), some Pulp Settings and anywhere else where you can find room for a Zombie Tyrannosaurus Rex.
Enjoy this article?