I'm using this organizers / stow-away boxes for quite some time now and I had to get a couple additional boxes to store some of the new arrivals.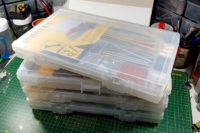 I bought these boxes in DIY / home improvement stores before, when they dropped them from their range (as both brands Stanley and Plano originate in the US) I had to look for them online, ending up in ordering third parties (as some sources were incredibly expensive, as they added import charges etc. and ended up way beyond 10 bucks per box...). After some search I found some Plano boxes at an online store for fishing goods for 7,50 EUR each, but managed to get my hands on some Stanley boxes on Amazon for just more than 5 EUR each. Sometimes these boxes are listed as "tackle boxes", in case you're looking for them for your self.
The boxes usually have 4 rows, sometimes the middle of the bottom row is less deep, like in this one. But they have dividers, that can be arranged to your needs. An advantage of the stanley boxes are the rounded edges on the bottom of the rows, as you can pick up bits and smaller pieces more easily. The height fits most 28-32mm easily, in some cases like the rather tall primaris marines it is better to lay them into the boxes. The space in these boxes is quite amazing, I store my whole Desert Rats and Afrikakorps in a box each, excluding vehicles (the third picture shows an early stage of that collection, without the plastic miniatures, but you get the idea).
The Plano boxes are the same size, have 4 rows as well, with the same rounded bottoms and include the dividers to rearrange the individial slots to your needs. There are some minor differences, for example the steps in which the dividers can be placed are more narrow and the bottom row is consistently the same depth. But they do have an off-set for the buckles to close the box.
There are different sizes for these boxes available. I have smaller boxes with only 3 rows for different kind of miniatures, for example for my limited and special miniatures, where I used the blister form to pad some of the rows.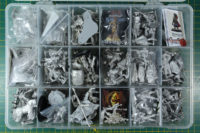 The boxes fit neatly into IKEA billy shelves. If you're lucky and have some of the deep ones, that measure 30 cm and not just 20 cm, so you can fit three of them next to each other and close the doors. In the "regular" 20 cm deep you have them either extend from the shelf or turn them by 90° and store them across.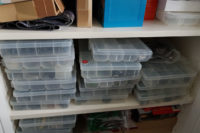 How did I find these boxes in the first place? Back in the day, and I really mean back in the day, as this is my first "army case" that I bought 20 years in a DIY store for around 50 Deutsche Mark (~25 EUR). Using tool boxes is a regular thing in wargaming, especially with the 15mm / DBx and FoG community, as they magnetize their bases and they stick to the metal tool boxes quite easily. This is a tackle case by Plano from their Guide Series and actually used for fishing, so you can store any kind of bait, tackle etc. in it, and that made great sense to me, as a base for an army case. I have a small drawer on top, that dice and token fit into, then a large drawer beneath that. A foam tray fits in there quite easily or as you can see, two super heavy tanks, so quite a lot of space for larger models and then you can open up the front and there is space for three of the organisers. As the different manufacturers keep them in the same size, you can use the different Plano stowaway boxes in there, or mix them with the ones by Stanley or other brands. Oh and that box is sturdy enough to sit on, so quite practical.
If you're wondering about the Aquila, yeah, that is window colours. I used an old White Dwarf, photocopied it a bit larger, put parchment paper on top and drew the imperial eagle. And for its age, roughly 20 years, it is still looking good.
I am aware, that this is a solution for projects that are work in progress, as painted miniatures may have problems without some kind of protection between them or you could magnetize the bottoms of the boxes / pad them with blister foam. As Stanley and Plano are both US american brands, it can be difficult to have a proper access on their products in Europe. Stanley is easier to acquire as they have a distribution partner and are more focused on tools, whereas Plano is a bit niche with their fishing focus. But now you have heard the names and if you see something / find something, maybe give it a try.
Enjoy this article?