Ad Arma does not just participate in other shows, like Rhein-Main-Multiversum recently, but hosts their own show in Meckenheim this saturday.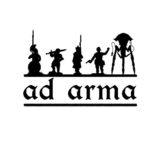 Saturday, 11.05.19: 10 a.m. til 6 p.m.
Gymnasium
Roedesheimer Str. 29
67149 Meckenheim (Palatinate)

The admission fee is 5 EUR, there will be a show miniature and a lot of demo tables and participation rounds, among them:
Frostgrave, Battlefield Gothic, Battlegroup (WW2 15mm), Shoot out in Dingstown, Ninja All Star, Kampfzone Front '46, Ziterions Magisches Turnier, Point Blank (WW2 1:72), Wild West Exodus, Wolsung, Dust 1947, Gangs of Rome, Fallout Wasteland, Star Trek, Poor Bloody Infantry, Warhmmer 40k, Saga (Asterix & Obelix), Dead Men's Hand, Squig Hoppa Race, Lord of the Rings (15mm), Black Hawk Down, In Clouds of Glory, Alien vs. Predator, Kill Team Arena, Briskar, Art de la Guerre, Predator 1987, Star Wars Legion and Bushido
The Con is not their first rodeo, Ad Arma has a tradition of hosting shows, as they already did that with their old name "Dice & Bayonets". Noel is an old friend of mine, so I had the pleasure to be invited to a couple of their past shows in Speyer in 2017, and under the old name in D&B 2014 and D&B 2015 in Speyer as well.
And Ad Arma is always on tour, met Noel and the gang at Spiel, Tactica and multiple other shows.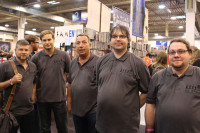 Remember to bring your purse, as there will be a Bring & Buy and multiple traders.
Link: Ad Arma
Enjoy this article?
Like us on Facebook

Follow me on Instagram

Categories
Blogroll
Tags
Archives